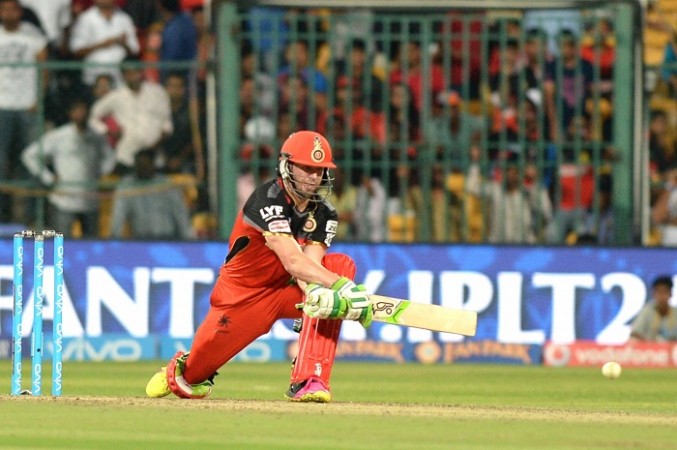 From an impossible situation, the impossible man showed nerves of steel to take RCB into the final of IPL 2016. With a loss and a second match to get to the finale looking inevitable, De Villiers weaved his ridiculous magic, scoring a brilliant unbeaten 79 to help the Royal Challengers Bangalore trump the Gujarat Lions in Qualifier 1 in Bengaluru on Tuesday.
The difference between a win and defeat is five days of rest and the option to stay at home, rest those weary legs a little and just sit back and watch as the other teams slug it out to earn the right to meet RCB in the final.
That luxury was possible thanks to De Villiers, who looked like he was in some trance, unaware of the wickets that were tumbling around him, with the only thought in his mind being – win the game for RCB.
With the match seemingly over at 29/5, De Villiers was class personified, taking off at the right time to power his team past GL's score of 158.
"I am just humbled," the always-modest De Villiers said in an interview to the IPL's official website. "I didn't think it was possible to win from there when I started batting and when we were five or six down. I thought 'Oh, we are in trouble,' and it was a big mountain to climb from there on.
"Dhawal Kulkarni (with figures of 4-1-14-4) bowled a fantastic spell. He almost won the game for them, but it is never over until the last ball is bowled.
"I tried to break it down into small targets. I wanted to focus on each ball and enjoy it even though we were down and out. I always had a bit of belief in the back of my mind.
"Such games just tell you that you are never out of the game. It is a funny old game - cricket. I am so delighted to have an impact in us crossing the line. We played a really good game of cricket."
While the bowlers did their jobs in the first innings, the batsmen certainly did not "play a good game of cricket." Once Virat Kohli fell for a rare low score in the second over – had to happen eventually considering the manner in which he has carried his team on his back in IPL 2016 -- it was up to the rest of the batsmen to carry their team home, but one after another tumbled, failing to cope with the pressure exerted by Kulkarni and Ravindra Jadeja, barring one, of course.
De Villiers was not exactly in his boundary-hitting zone, but he showed the determination and wherewithal necessary in such an important chase, battling it out in the middle in the early stages, before turning on the style from over number 15.
"It was in that Dwayne Smith over in the 15th (when I decided to go on the attack). Virat sent a message out saying there is a bit of bad weather around and it was probably the best time to try and get up with the run-rate again," De Villiers added.
"So, I decided to have a go in that over to see where it takes us. That got us going so well and the crowd got behind us. It just didn't stop from there. We always believed we could get to the target and that is the kind of character we have in the side. We never gave up. But it looked highly unlikely to make the knockouts, never mind the final. But here we are, just humbled and very happy and hopefully we can entertain the crowd on Sunday."
Entertain is what De Villiers does, having played some spectacular knocks in the past, including the one against GL in the league stage match, when he went on to score a peerless hundred. However, De Villiers rates this unbeaten 79 much higher than that century or any other he has scored in an RCB shirt, considering this innings helped his team to their third IPL final.
"This is a million times better than any hundred I have scored," De Villiers said. "I have said it so many times before that I don't look at stats. I don't look at hundreds or two hundreds or all of that nonsense. I just want to cross the line for the boys.
"This was a prime example of that. I have failed so many times in the past in pressure situations like that, but (this time) my experience helped me. The amazing support here at the Chinnaswamy Stadium helped me to cross that line."