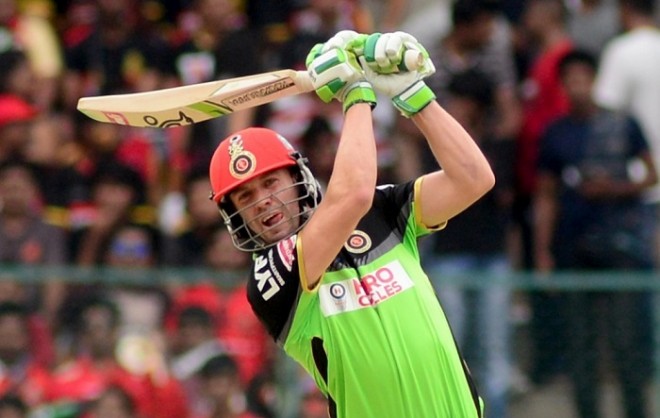 There is no better player to watch, no player more entertaining, no freak of nature more freakish than Abraham Benjamin De Villiers. When the Superman gets going, it is sit back, relax, keep shaking your head in disbelief and just enjoy the beauty of cricket, AB de Villiers style.
On a hot day in Bengaluru, De Villiers heated things up tenfold by playing an innings of such brilliance and brutality that you had to feel bad for the bowlers in the end, this time the ones of the Gujarat Lions camp. And then, that sorry feeling for the bowlers went up a notch, when Virat Kohli decided to join in on the fun.
De Villiers has done this many times, of course, but no matter how many times you watch it, it does not get old, it does not get even remotely "Oh yeah, I have seen this, not that great anymore."
When De Villiers gets going, there really is no better thing in world cricket. So good was the great man that Kohli was a mere spectator at the other end for the longest time, and his biggest fan too, jumping around in joy and pulling out expressions of disbelief as six after six after six after six rained down at the Chinnaswamy Stadium.
On a day when RCB, playing in green, absolutely needed to win, and were put into bat when they would have much rather chased, De Villiers and Kohli made the Gujarat Lions regret that decision, and then some, as the home team plundered 248/3 in their 20 overs.
The first ABD fifty was quick, off 25 balls, but the second was the kind of half-century that made every single person's jaw drop. The hitting was so sensational that you almost felt the Gujarat Lions fielders were admiring the greatness that is De Villiers, even if their team were the ones getting the treatment.
There were those De Villiers patented sweep shots off the fast bowler, one of them off Praveen Kumar, which hit the roof; there were plenty of smashes to cow corner; more than enough straight back and a fair few through the offside as well, as De Villiers played to the gallery like only he can, bringing then unbridled joy.
His second 50 came in just 18 balls, with the hundred, as a result, coming off a mere 43 deliveries. De Villiers did not stop there as the behemoth went on to smash 129 unconquered runs from 52 balls, in a ridiculous – and there is no other word for it, other than plain ridiculous – assault which had 12 sixes and 10 fours.
Kohli, at the other end, looked like he was playing a Test match-saving innings in the last session when compared to the great man at the other end; or so it seemed till the 19th over, when Kohli went 6, 4, 6, 6, 6, 2 off poor-old Shivil Kaushik. Kohli would then bang a straight six off Praveen Kumar in the final over to complete his third century in IPL 2016 – ridiculous, aye – the only man to ever do that.
At the end of it all -- and boy what a beginning, middle and end it was -- Kohli (109, 55b, 5x4, 8x6) and De Villiers put on 229 runs in 16 overs together in a world record T20 partnership you will never see again; and to think they came together after the crowd went silent when Chris Gayle fell early in the innings.
Watch the highlights of De Villiers and Kohli's partnership HERE