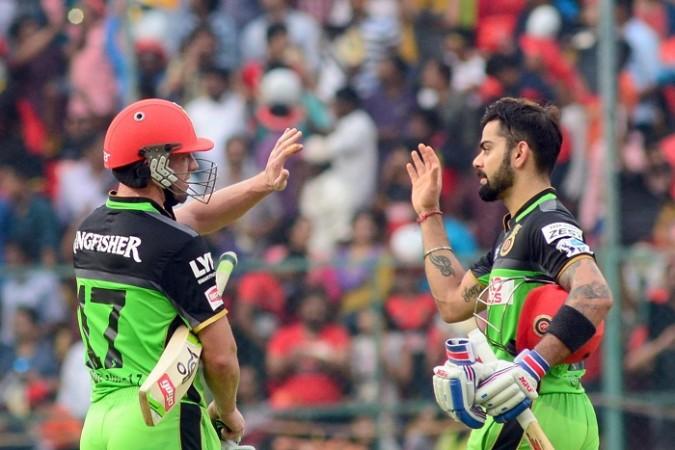 After an assault of proportions previously thought to be impossible, courtesy the two batting superstars of world cricket – Virat Kohli and AB De Villiers – RCB ran through the Gujarat Lions batting lineup to complete a mammoth 144-run victory – the biggest ever, in terms of runs, in IPL history. As a result of the win, RCB got right back into top four reckoning of IPL 2016.
It looked like it might all go wrong for RCB at the beginning, as Kohli lost the toss again and the home team were put into bat on a ground where chasing is the way to go. After four overs, that feeling only heightened when Chris Gayle (6, 13b, 1x4) fell early.
However, then came the partnership to beat all T20 partnerships; an alliance so good that, all anyone will ever want to do is watch it again and again and again. Kohli (109, 55b, 5x4, 8x6) and De Villiers (129 n.o., 52b, 12x4, 10x6) found their mojo in ridiculous fashion, putting on 229 runs in 16 overs – a world record in T20 cricket – to help RCB to an unbreachable 248/3.
The Gujarat Lions were bowed down by the pressure of the chase and once the two openers – Dwayne Smith and Brendon McCullum – fell early, it was all over in a hurry as the away team crumbled to 104 all out in 18.4 overs, with Chris Jordan, in need of a good game, picking up four wickets.
While the win improved RCB's net run rate considerably, Kohli's men still stay sixth in the IPL 2016 points table, but if they continue in this vein, they will qualify for the playoffs. Gujarat Lions also stay second, but that run rate of theirs has taken a serious beating, not to mention the team's confidence.
This match, though, was all about De Villiers and Kohli. The South Africa started the assault, scoring runs at will from the start, racing to a 25-ball 50. He got to his hundred in just another 18 balls, with Kohli, at the time, on a mere 51 from 40 balls.
With De Villiers already smoking everything out of the ground, Kohli cashed in as well, with Shivil Kaushik in particular getting some treatment as the India Test captain plundered the unorthodox spinner for 30 runs in the 19th over. Just like that, Kohli got to his hundred, off just 53 balls, as the two RCB batsmen lit up the Chinnaswamy like it has never been lit up before.