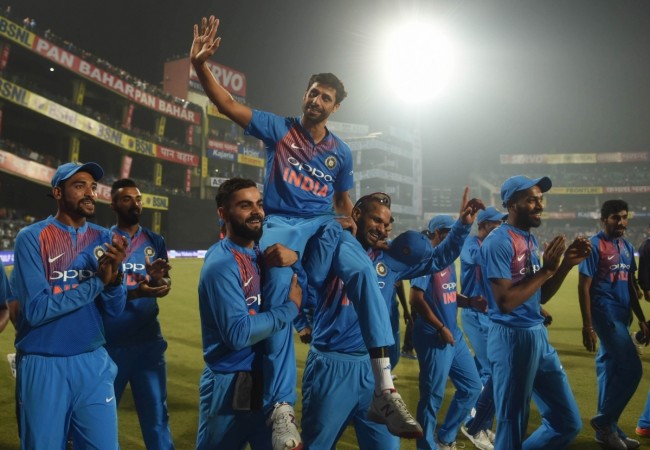 Ashish Nehra says bowlers will have a key role to play in the coming season of the Indian Premier League, even though he feels the Twenty20 format is kinder to batsmen.
Nehra, 38, retired from competitive cricket last November and has been drafted, along with former South Africa opener Gary Kirsten, to be part of the coaching staff at Royal Challengers Bangalore.
The former pace bowler said he is looking forward to his coaching stint and elaborated on the difficulties faced by bowlers to stand out from the crowd in the shortest format of the game.
Nehra has played every single season of the IPL since its inception in 2008, representing teams such as Chennai Super Kings, Mumbai Indians and Delhi Daredevils.
"As a batter even if you don't score for five-six innings, and then you score a 120-ball 40 or a 130-ball 50, it is more highlighted," he told the Times on India.
"But it is other way round for a bowler. You might pick three wickets in four overs giving away 25 runs, it may go unnoticed. But if you give 60 runs in four overs, it will get highlighted.
"In terms of cricketing contribution, I feel bowlers have an equal role to play, especially at a venue like Bangalore or Mumbai, where everybody knows wicket is going to be a belter.
"Be it Tests, ODIs or T20s, bowlers have to do well to win the match. You can't win a Test match by scoring a 1,000 runs. You will have to take 20 wickets to win it."
Nehra said he would be more of a man manager in the RCB backroom set-up than a coach.
"I can't and don't want to change anybody's game in the two-three months," he stated.
"I just want to change their frame of mind if there is a need for it. All my bowlers know how to bowl, but my job would be to tell them what to bowl when."
The 11th season of the IPL gets underway on April 7, with Mumbai Indians taking on Chennai Super Kings.
RCB play their first match of the tournament against Kolkata Knightriders at the Eden Gardens on April 8.