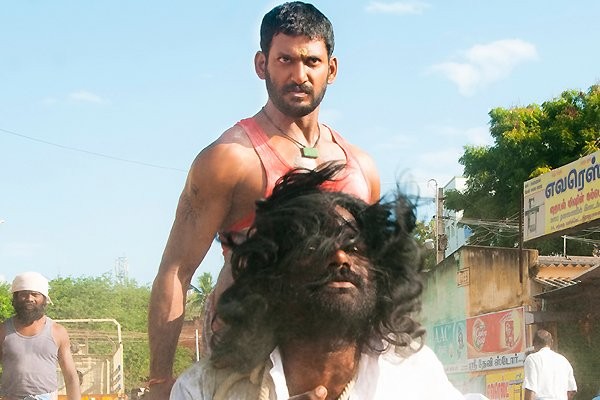 Director Muthiah's Telugu movie "Rayudu," featuring Vishal Krishna and Sri Divya in the lead roles, received mixed reviews from the audience in Andhra Pradesh and Telangana.
"Rayudu" is the dubbed version of the Tamil action film "Marudhu," which was released in theatres on May 20. Written by Muthiah, the story of the film is set in the backdrop of a village and it deals with the sentimental relationship between a grandmother and her grandson. It has a routine subject, but its engaging screenplay makes it a good watch, say the audience.
Rayudu (Vishal) is a coolie (daily labour) at the local market. He lives with his grandmother and falls in love with Bhagyam (Sri Divya). Local goon Rolex (RK Suresh), who wants to make it big in politics, plans to kill Bhagyam and her father. How Rayudu stands by them forms the crux of the story.
In the role as a labourer, Vishal has delivered wonderful performance in the movie, which is his show all the way. Sri Divya has got good scope for performance and she has done justice for her role. Others have also delivered good performances, which are big assets of the movie.
"Rayudu" has decent production elements and music, camera work and action choreography are the big attractions on the technical front. We bring you some viewers' verdict shared on Twitter. Here is the live update of the "Rayudu" movie review by audience:
Sangeetha Devi ‏@Sangeetha_Devi
The last 30 min or so of #Rayudu #Maruthu is so emotionally manipulative, it's annoying. Reminded me of a few Tamil/Telugu films of the 90s Remember those films with long sequences showing a mother/grandmother character being tortured? Why bring back that regressive trend? #Rayudu has a solid story but this episode negated everything else, for me. Review later in the day.
Pavan Kumar ‏@paulpavan78
#Rayudu is #OoraMass entertainer and @VishalKOfficial nailed it. Telugu Mass audiences will love the film #Marudhu. Released in 500 screens
Chandrakanth ‏@itschandrakanth
#Rayudu -2.75 strong women portrayal, @VishalKOfficial s Power packed action hilight of film. Rural Backdrop line will impress masses. The real show steler #KulappulliLeela (Aanamma) . OutStanding Performace. #Suresh performace one of da hilight film.
Kranthik777 ‏@kranthi70 6m6 minutes ago
#Rayudu just watched..i loved #vishal anna screen presence on screen..luvd the movie..diff attempt
AVAD ‏@avadsays 21m21 minutes ago
Here is my review of #rayudu - loud but Watchable- @i_Sri_Divya does supremely well @VishalKOfficial is massy
Vamsidhar Reddy ‏@balayyafan_nlr 24m24 minutes ago
#rayudu -1st half -- double mass 2nd half - arava vasana komchem ekkuva ayyimdi #rayudu vishal acting adurs oora mass dance lo evadaina vishal kinde
Suresh Kondi ‏@V6_Suresh 37m37 minutes ago
#Rayudu (#Marudhu ) is a passable Rural backdrop Action entertainer. @VffVishal strikes..#SriDivya is Good as a village girl. #Watchable.
Crazy Media ‏@crazymedia4U
#Rayudu Movie - Once Again #Imman Song's & BGM Rock's ;) Totally #Rayudu Movie - A Pucca Mass Commercial entertainer.. #Vishal and Dir Muthaiah r rocking it. #Rayudu rightly mixed rural action entertainer. @VishalKOfficial 's best in recent times, interval block + @immancomposer BGM Super ;) Beautifully portrayed Grandmother& grandson relationship @VishalKOfficial #Rayudu perfect sentimental entertainer ;)
Satish ab- ‏@satti88509360 2h2 hours ago
@i_Sri_Divya #Rayudu liked the film a lot! Loved your character! Awesome performance! Pakka hit
Virat Kohli ‏@Raghava4mahesh
1st half good #Rayudu movie my rating 3/5 watchable mass entertainer @VishalKOfficial Vishal performance,Vishal - Soori scenes high voltage action scenes masses connect avvatharu over all average - above average #Rayudu Oora mass bomma heavy dosage sentiments mass centres lo bomma long run untudhi Karthi Ki Komban Vishal Ki Marudu/Rayadu same director
Nikhil Kumar ‏@nikvenk
@i_Sri_Divya looks cute and does her part perfectly. She is the only watchable face in the entire film! #Rayudu 2.75/5
SomesH.. ‏@someshchinni10
Vishal #Rayudu movie mass audions ki baguntudi. oora mass BGM adurs.
Sundeep ‏@sunny438
Ok first half. Drayudu aka #Rayudu Done. One more sambar movie #Rayudu
Survi ‏@PavanSurvi
#Rayudu is pretentious to the core & tests the patience during its 146min duration