Team India head coach Ravi Shastri has been persistent about choosing his own support staff from the day he was handed the high-profile job. Even as Rahul Dravid and Zaheer Khan were recommended for consultant roles, the former India captain has been vocal about getting a full-time bowling coach to join batting coach Sanjay Bangar and fielding coach R Sridhar.
Former India pacer Bharat Arun seems to be Shastri's unanimous choice. The 54-year-old was the latter's go-to-man during his tenure as Team Director from 2014 to 2016.
Shastri has maintained that Arun's rich experience in ironing out flaws of the bowlers and his willingness to work in a full-time role will prove vital to Virat Kohlii's team. Notably, the Supreme Court-appointed Committee of Administrators (CoA) also side with the head coach, saying it had put on hold the contracts of Khan and Dravid.
A four-member committee, comprising CoA member Diana Eduljee, Board of Control for Cricket in India (BCCI) acting president CK Khanna, secretary Amitabh Chaudhary and CEO Rahul Johri, was also formed and announced that it would meet Shastri on Tuesday, July 18, to figure out the composition of the support unit, especially Khan's role as he was reportedly not willing to take up a full-time role.
While it is widely speculated that Arun is likely to join Shastri's camp, the bowling tactician has joined Tamil Nadu Premier League side VB Thiruvallur Veerans as coach. Notably, the intra-state Twenty20 tournament will be held between July 22 and August 20.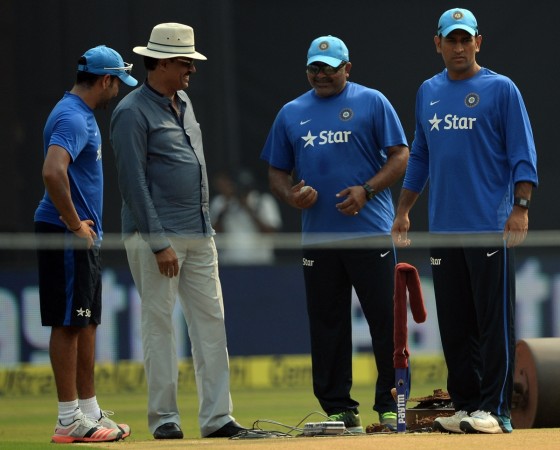 The recent development has added more confusion to what is already being seen as a shoddy selection process of support staff by the BCCI.
Meanwhile, Arun will have to quit his role with TNPL if he is handed the India bowling coach role after Tuesday's meeting. Notably, the CoA had questioned the BCCI over 'Conflict of Interest' issue after it found that many of national team's support staff were still contracted to T20 leagues.
Apart from TNPL role, Arun is also the bowling coach of Indian Premier League side Royal Challengers Bangalore. Hyderabad Cricket Association (HCA) reportedly are also keen on extending the former Tamil Nadu pacer's contract as the coach of the state team after his successful stint last season.
Arun, contrary to reports which claimed he was appointed as the bowling coach of Team India, maintained that he had not got the job yet. However, the former Tamil Nadu pacer seems to be ready to take up the role and join Shastri's camp once again.
"As of now, I have to carry on normally, isn't it? If I do get the India job, I will leave both the TNPL and the RCB," Arun told the Times of India.
Arun is expected to be compensated by the BCCI for giving up his domestic and IPL commitments. Notably, Dravid was reportedly offered 100 percent pay hike for choosing India duty over Delhi Daredevils' role.
Meanwhile, the contracts of support staff along with Shastri's salary are expected to be finalised on Tuesday when the four-member committee meets the head coach.