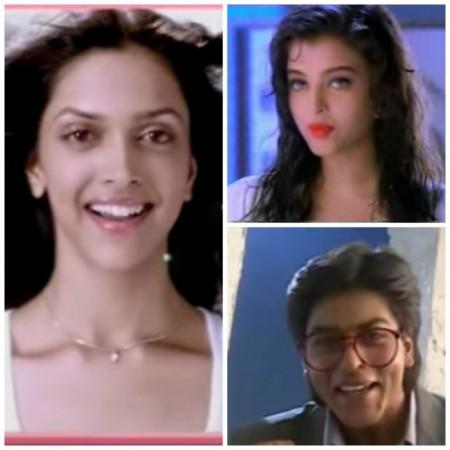 Bollywood stars including SRK, Aishwarya Rai Bachchan, Salman Khan, Deepika Padukone and other celebs have been ruling Bollywood ever since they came aboard and have captured millions of hearts with their appearance on silver screen.
However, these superstars have already been on screen much before they got stardom. They have appeared on ads, mostly in Doordarshan.
Watch below the rare and unseen commercials of B-Town biggies:
Priyanka Chopra
After winning Miss World contest, PeeCee was seen in a commercial. She did a hair oil ad in a desi avatar. And one may wonder how the sizzling Chopra of B-Town used to be back then.
Katrina Kaif
Katrina Kaif too appeared in one of the funny Fevicol ads. It was the initial time of her career when she did this commercial. Like all the other ads of this product, this one too has taken a unique and hilarious approach.
Rajkumar Hirani
"PK" director Rajkumar Hirani was involved in producing commercials, before he ventured into Bollywood. However, in the Fevicol ad here, the ace film-maker made a difference by appearing in front of the camera.
Salman Khan
Before getting into films, the "Kick" star was seen in a cold drink ad. It was the time when Salman Khan was too young and not at all famous, ie, before his debut performance in "Biwi Ho Toh Aisi."
Vidya Balan
"The Dirty Picture" actress was a common face in Indian commercials before her debut in Bollywood. In the ad above, Vidya Balan appeared as a South Indian wife.
Aishwarya Rai Bachchan
Few people know that Aishwarya Rai Bachchan grabbed public attention when she first appeared in a 'Pepsi' commercial with Aamir Khan and Mahima Chaudhary. She appeared as a hot friend of Chaudhary in the ad, which was shot before the beauty queen won the Miss World crown.
Deepika Padukone
Debut in "Om Shanti Om" was not Deepika Padukone's first screen appearance. She was seen flashing her million watts smile in a 'Close-Up' ad. It is rather difficult to recognise the hot diva in this commercial.
Shah Rukh Khan
King Khan donned dual role in a motorbike ad in Doordarshan, which reminds one about his film "Duplicate."