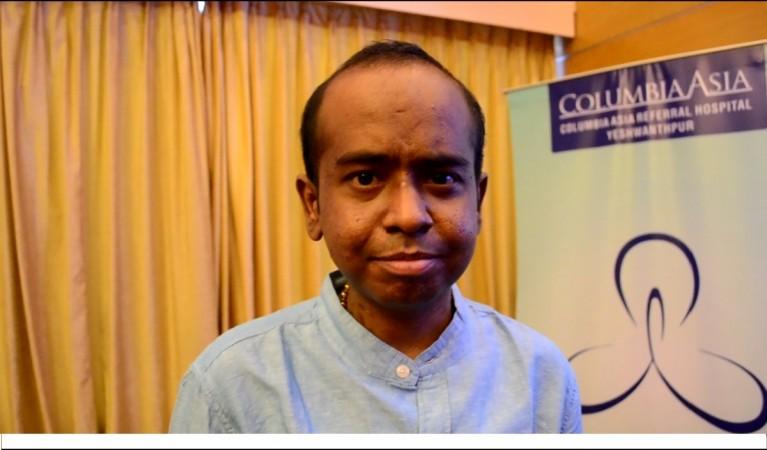 Kidney and liver transplants are nothing new, but this case is different, as the patient, Sanish Bharat, underwent a rare dual liver and kidney transplant.
Also Read: Losing your sense of of smell? You could be dying!
Now aged 26, Sanish was diagnosed with medullary cystic disease of the kidney in 1991, when he was just one-year-old. Since then he has been undergoing dialysis sessions and fighting the disease.
The disease was detected after he came down with a high fever and faced problems urinating. At that young age he had to undergo 38 sessions of dialysis after which he was considered eligible for a kidney transplant.
The transplant took place in 2002 when he turned 12, and his mother had donated her kidney.
"After the kidney transplant, the first two years went very well with my creatinine levels increasing. However, by 2012 I started vomiting blood again and the doctors told me that I had a problem in my liver too, which was affecting the transplanted kidney," recollected Sanish.
Instead of improving, his health started to worsen. Sanish became sleep-deprived and even felt nauseous for six to seven hours a day!
"I went to many doctors all over Bangalore. Many times I had to undergo an endoscopy because of the leakage of blood internally into my stomach. By September 2015, my transplanted kidney started failing and I had to be put back on dialysis. The doctors suggested that I opt for a second transplant for both kidney and liver," he said.
It was in 2016, when Sanish was recommended to Dr Sumana Kolar Ramachandra and his life changed drastically.
Sanish found out he had to undergo another operation and this one was going to be a dual kidney and liver transplant. This phase was difficult for his family, he said in a statement.
The life-saving combined liver and kidney transplant was performed a month ago by the Columbia-Asia-Medanta Liver Team led by:
Dr A S Soin, Chief Hepatobiliary and Liver Transplant Surgeon Chairman, Medanta Institute of Liver Transplantation and Regenerative Medicine, Medanta-The Medicity.
Dr Sumana Kolar Ramachandra, Chief of Liver Transplant, Columbia Asia Referral Hospital, Yeshwanthpur, Bangalore, India.

"When Sanish came to us, he had upper GI bleeding with low platelet and two episodes of Hepatic encephalopathy," said Dr Sumana.
The tough part about this operation was that he was going to be more vulnerable to infection as he had been on immunosuppression drugs for a long time.
The doctors at Columbia Asia hospital, who were working on Sanish's case, were caring and supportive, the family told International Business Times, India. Before conducting the dual transplant, they called the family and explained the entire procedure and cleared all their doubts. This session aided in boosting the family's confidence.
On February 1, 2017, Sanish underwent the dual transplant. The operation took place only after family members took the decision to donate his organs in the event of brain death.
"Only two per cent of all liver transplants are done as combined transplants along with a kidney, and this is possible only in a handful of advanced transplant centers. Sanish's transplant was complex as he was suffering from both liver and kidney failure, and it took 11 hours for our team of 30 doctors and nurses to complete the surgery," said Dr A S Soin, Padma Shri awardee, surgeon and pioneer in the field of liver transplantation.
"One major challenge in this combined surgery was the deranged clotting in liver disease, which could cause bleeding that was made worse by bad platelet function due to kidney failure. However, with meticulous surgical technique, we could perform the combined transplant with only two units of blood.
"Another unique challenge is that for liver transplant we keep the blood pressure on the lower range of normal, while for kidney transplant, the blood pressure is best kept high. The balance between these situations was achieved by good aesthetic and surgical techniques," Dr Soin added.
Even staff of Columbia Asia donated their blood and platelets to help the dual transplant.
The operation was successful and the doctors credited Sanish's will power for that.
Dr Sumana told International Business Times that: "Up to 25,000 liver transplants are needed ever year in India, but issues such as lack of donors and experts, awareness and financial issues are the major problems that prevail."
"The government set-up to aid patients like Sanish has just started and there is a need of more organisations to help the needy and curb this problem."
She also advised people to follow a healthy lifestyle and workout often in order to prevent such issues. Following a healthy diet is very important," she added.
Sanish got a bit candid and revealed he missed eating his favorite food because of the dialysis and operations he underwent since childhood. After this operation he will eat everything he loves in a balanced way.
"Homemade Rajma-chawal and chicken prepared by my brother are my favorite foods," he told International Business Times.
He also advised others going through dialysis to exercise and take care of themselves.