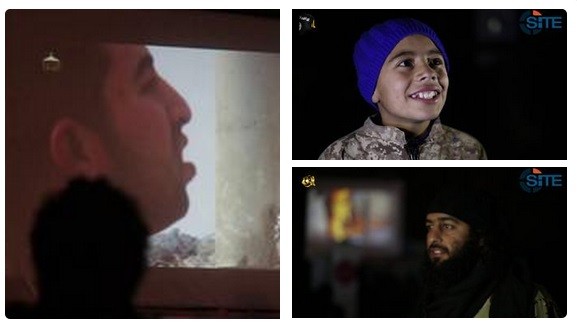 In a sadistic act, the dreaded Islamic State (IS) showed on huge screens in a public place in Raqqa, Syria, the video that shows how it burnt alive the Jordanian pilot Mouath al-Kasaesbeh.
The group had erected huge screens in its de-facto capital, where the video was watched by many, including a young boy, who smiled and cheered seeing the pilot being reduced to ashes.
The SITE Intel Group, which monitors activities of jihadist groups, has said that the militant outfit (also known as ISIS or ISIL) said the group screened the video showing the gruesome killing of the pilot and also recorded the crowd cheering the death of the pilot.
"The IS held a viewing in Raqqah of the video of burning to death Kasasibah, and recorded the "joy" of men and a boy," SITE tweeted.
The new video titled "Muslims' Joy at Burning of Jordanian Pilot" also shows IS supporters shouting "Allahu Akbar" as the execution video was being played.
The Intel group also cited the militant organization's Radio broadcast as saying the ISIS had justified the burning of the pilot as a punishment for burning Muslims during the sorties he carried as part of the US-led coalition attacks.
The SITE revelation confirms earlier rumours that IS militants were using large screens to show the clip of the pilot's murder.
The IS held a viewing in Raqqah of the video of burning to death Kasasibah, and recorded the "joy" of men and a boy. pic.twitter.com/xjLErKTZy0

— SITE Intel Group (@siteintelgroup) February 4, 2015
Kid in #ISIS vid on #JordanianPilot:"If he was here, I'd burn him by my hand. I wish to capture pilots and burn them" pic.twitter.com/BWK91mpWQk — Rita Katz (@Rita_Katz) February 4, 2015
According to a twitter account "Raqqa_IS", a small group that exposes shocking activities of the terrorist group in Raqqa, the jihadists wanted people to see the video multiple times and the video was played repeatedly for a very long time.
"#Raqqa Using large viewing screen and Movie projectors across the City of al Raqqa, #ISIS Played the Burning of the #JordanianPilot Mouaz Al Kasasbeh for the public to watch over and over again," the group tweeted.
The deadly hardliner Sunni militant group circulated photos and a video on Tuesday purporting to show the pilot being burnt alive inside a cage.
The footage and images showed a burning man standing in a cage. Kesaesbeh appeared to have been placed inside the cage seemingly located on an open ground. He is seen wearing an orange jumpsuit that all ISIS hostages are forced to wear, and is apparently doused with an inflammable liquid before being set on fire.
In its response, Jordanian authorities have vowed that there would be an "earth-shaking" response for the murder of the pilot. Jordanian King Abdullah has also vowed a "relentless" war against the group in response to the sickening video.