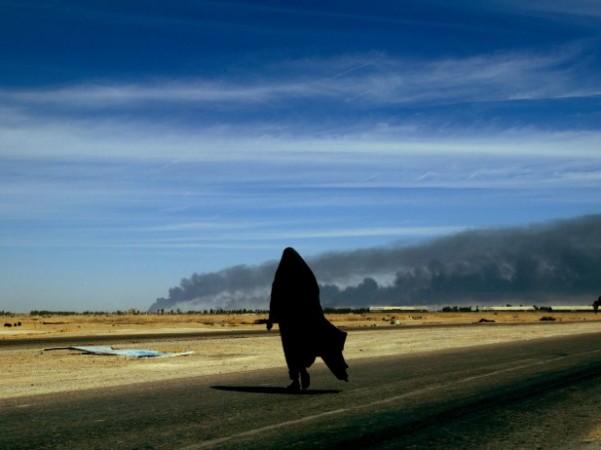 A Dutch mother undertook a highly-dangerous rescue journey to the Syrian city of Raqqa after her daughter - a jihadi bride- left her a message asking for help.
The mother, Monique, a resident of Maastricht city in Holland, travelled to the ISIS stronghold Raqqa all alone to rescue her daughter.
Local reports claim that her daughter,19-year-old daughter Aicha, left a message on social media asking for help as she wanted to return home. Aicha fled home after converting to Islam to marry a notorious Dutch jihadi,Omar Yilmaz, in February last year.
"She wanted to go home, but could not leave Raqqa without help," the mother told Dutch daily-Algemeen Dagblad.
When the distressed mother approached the Dutch authorities, they refused to help her and instead asked her to give up the idea. They even told her that her daughter will be charged for 'terrorism activities.'
Aicha's husband, who used to be a Dutch soldier, has been featured in several ISIS jihadi videos calling on followers to wage war against the West. The authorities believe that Aicha may face charges including assisting in terrorism activities.
The mother, however, refused to listen to the authorities and on her own chalked out a travel plan. She even established contact with her daughter through Facebook. Before leaving home, the brave mother reportedly told family and friends:"Sometimes you gotta do what you gotta do. This is what I think is right."
Wearing a burqa, the Dutch mother travelled over 4,000 km from her home all alone to Raqqa via Turkey, where she finally was able to help her daughter flee ISIS.
Her daughter guided her mother near a place in Raqqa and from there the two ran off to Turkey. But the daughter was taken prisoner by the Turkish authorities as she had no passport with her.
The two now are waiting for the Dutch authorities to extradite them from Turkey within a week.
"It is quite remarkable that the mother managed to find and get her daughter," Françoise Landerloo, the family's lawyer told a local daily.