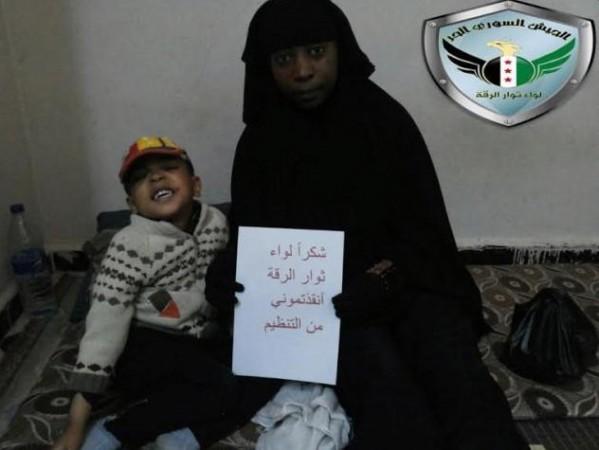 In a daring attempt, a rebel group opposing the Islamic State militants helped a French woman and her child to escape from the clutches of Isis in Syria.
According to a Syria-based underground media group, the French woman was assisted by members of a rebel brigade in fleeing Raqqa along with her son.
Nikolai contacted the rebel group, Liwa Thuwwar al-Raqqa, as she wanted to escape from Syria.
The French national is of African origin and she contacted the Syrian rebel group via Skype. Following this, an elaborate plan was laid out to help the woman.
A french journalist was also involved in the rescue and interceded for her with the Turkish and French officials.
Dozens of men and women, who were part of the rebel Syrian group accompanied Nikolia and her son till they reached the Turkey border on 21 April.
Nikolai and her son had left Isis' Syrian capital on 21 April at around 5 am. They were first taken to Suluk, located north of Raqqa.
Monitoring group, Raqqa is Being Slaughtered Silently, revealed that several Isis fighters also "collaborated" with the rebel group to help the rescue convoy pass the Isis checkpoints without hassle.
After travelling for two hours, the group reached the Turkish town of Gaziantep, travelling via Kobani, where the YPG gave the convoy a safe passage. The woman and her child were reportedly handed over to a French journalist, who was responsible for their safe passage to France.
Nikolai later posted a picture of her along with her son, thanking the Syrian rebels for the help.