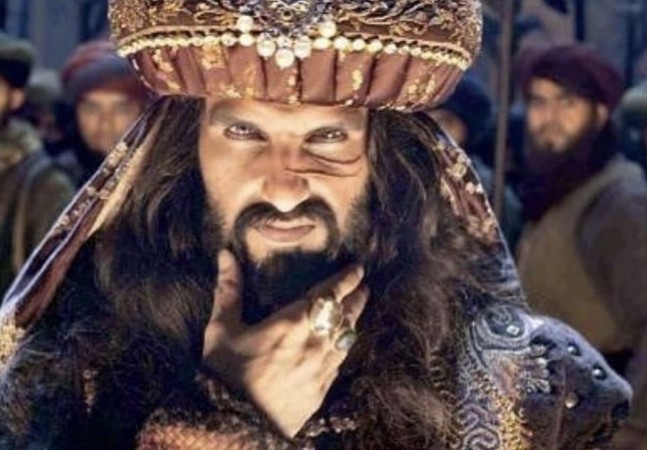 Amid nationwide protests, Sanjay Leela Bhansali's magnum opus Padmaavat has finally hit the theatres on January 25 and the movie has received thumbs up from the critics and viewers alike. While moviegoers are going gaga over Bhansali's vision of filmmaking, there is one actor who stands tall with his brilliant performance. And it is none other the 'mad king' Alauddin Khilji aka Ranveer Singh.
Ranveer has been hailed as the one-man army by the critics for carrying the entire film on his broad shoulders. He has not just portrayed Khilji in the film but lived it. You hate him throughout the film for his ruthless actions and in the end, he makes us love him even more as an actor.
ALSO READ: Padmaavat Movie Review: Deepika's beauty, Ranveer's rage and Shahid's valour are magnificent
Social media went berserk after watching Ranveer in Padmaavat and termed it as his best performance till date. While his inbox is getting flooded with congratulatory messages, the actor took to Instagram to share an emotional post with his fans, thanking them for their overwhelming response, and Bhansali for shaping the artist in him.
Read the full unedited text here:
"I saw Padmaavat in 3D IMAX last night.
I am so overwhelmed with the film at this point that words fail me. I feel immensely blessed.
I am so proud of my team. TEAM PADMAAVAT for the win! High tens and monster hugs to everyone!
I am relieved and happy with the reactions to my performance. Thank you all for your kind and generous praise. Sanjay Sir has given me a gift of a character that I will forever be indebted to him for in my life, more than I already am. You have shaped me into the artist that I am, Sir. I love you.
For me, the sheer toil of our film's team has translated as magic on the big screen. And today on the eve of the release of our beloved film, I wish you all a Happy Republic Day in advance and invite you all to the cinema halls. I am proud to be part of a film that our whole country can be proud of. Jai Hind."
Meanwhile, cinema owners in four states – Rajasthan, Gujarat, Madhya Pradesh and Goa – have decided not to screen the movie until the protests by Karni Sena come to an end.