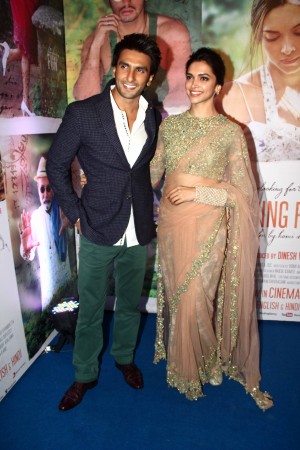 A few weeks ago Deepika Padukone came clean on her encounter with depression. While part of it stemmed from her own reasons, it is being said her alleged beau Ranveer Singh played a significant role in getting the gorgeous actress depressed.
According to a Bollywood Life report, the "Kill Dil" actor was breaking his head over a friend's death who had shot himself after posting an update on Facebook saying he would kill himself. What shook the young actor was his inability to reach out to the said friend on time and save him from giving up on life.
"Ranveer doesn't like to show his emotions in public, but people close to him, especially Deepika knew that this tragedy had hit him hard. She saw him struggle with his grief mixed with guilt. He even saw a therapist for a while," an insider informed BL, adding how DP stood by his side silently the time he was coping with the loss.
"Deepika was his silent support at the time, and she saw first-hand how depression was a serious disorder. Perhaps that pushed her to talk about this issue. No one is denying that she too perhaps was going through the same thing, but her decision to address depression publicly had a lot to do with Ranveer and his friend who lost his life to the illness," added the source.
Interestingly, in an interview with Hindustan Times, the "Happy New Year" mentioned a friend's passing away as one of the trigger points for her opening up on the mental illness.
"My personal experience as well as my friend's death urged me to take up this issue, which isn't usually talked about. There is shame and stigma attached to talking about depression. In fact, one in every four people suffer from anxiety and depression," she said.
In other news, DP is currently in Delhi shooting for Imtiaz Ali's "Tamasha" along with ex-beau Ranbir Kapoor. She has wrapped up Shoojit Sircar's "Piku" and will begin with Sanjay Leela Bhansali's "Bajirao Mastani" soon.