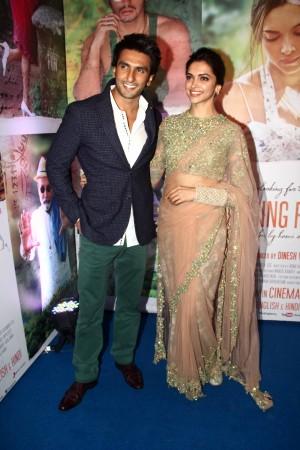 Only a couple of days have gone by since the AIB Roast video has been put up on 'All India Bakchod' YouTube channel, and it's already a chaos.
While political parties and independent groups have expressed disgust over the 'abusive' content of the 90-minute show leading to the comedy group deleting the videos, a few celebrities have come together to support the stand-up comics.
Ranveer Singh, who was grilled crazy amid 4,000 odd people, strangely, has remained tight-lipped about the controversy. Word has it, it's on alleged girlfriend Deepika Padukone's orders that he chose not to voice his opinions on the matter.
DP is exceedingly worried about her beau's straightforwardness, which often lands him in trouble, according to Bollywood Life. It is also being said she is not okay with him tweeting about the matter at hand considering how misunderstood he ends up being.
So, is the "Happy New Year" actress a controlling or a concerned girlfriend? While that is only for Ranveer to know, the much-in-love couple was a big sport to have taken jokes on them head on at the event. Alia Bhatt, Sonakshi Sinha, Sanjay Kapoor and Anurag Kashyap among others are some of the other celebs who took the wisecracks thrown at them in the right spirit.
In other news, the energetic actor is prepping for Sanjay Leela Bhansali's dream project "Bajirao Mastani" alongside Deepika and Priyanka Chopra. He also has Zoya Akhtar's "Dil Dhadakne Do" releasing in a few months, in which he plays a rich and misunderstood son on a family cruise. The film co-stars Anushka Sharma, Farhan Akhtar, Priyanka, Anil Kapoor and Shefali Shah.
The ladylove too is busy with quite a few projects at the moment. The gorgeous actress is currently filming Imtiaz Ali's "Tamasha" with Ranbir Kapoor in Delhi. She recently wrapped shoot of Shoojit Sircar's "Piku" with Amitabh Bachchan.