Sudeep's much-awaited "Ranna" has been released on Thursday, 4 June. The Kannada movie directed by Nanda Kishore of the "Victory" fame has opened to positive reviews.
Photos: 'Ranna' Celebration in Theatres | Read Official Review
"Ranna" is a family drama, which is the remake of Telugu hit film "Attarintiki Daredi". The makers have made minor changes in the Kannada version to suit the tastes of the local audience. Rachita Ram and Haripriya are playing the female leads in the flick.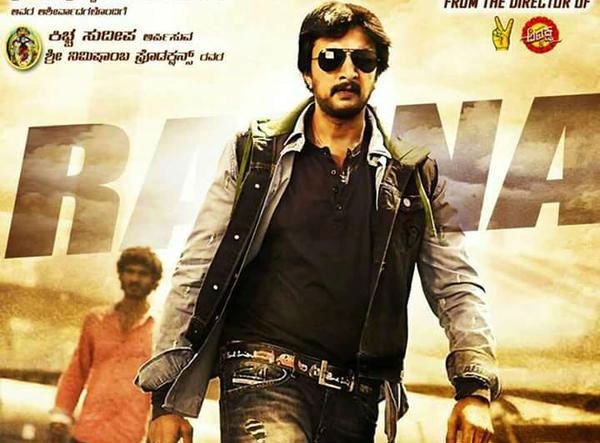 Big names like Prakash Rai, Devaraj and Madhoo of the 'Annaiya" fame will be seen in key roles with Sharath Lohitashwa, Mandya Ramesh, Sadhu Kokila, Chikanna and others in the supporting cast. V Harikrishna has composed the music, Sudhakar S Raj has handled the camera and KM Prakash had edited the flick.
"Ranna" reportedly had early morning shows in about 100 theatres in Karnataka. The overall screen count is 200. Meanwhile, the Kannada film has got fairly positive reviews from the audience: Below, we bring you the audience tweets about the Kannada movie:
Goodman Wrote
#Ranna Reached Rockline ..Waiting for movie to start
#Ranna Happy to see Nam Cinema logo in the credit opening list
#Ranna Mind blowing title card shown..along with innovation
#Ranna - One of the best ever stylish terrific introduction of hero in KFI..Sudeep at his best
#Ranna Done with the stylish rocking introduction song..Babbar sher..Story opening up now
#Ranna Emotions building up in slow pace
#Ranna - Rachitha ram looking gorgeous and adding to the party..lot of whistles to chikkana's entry
Ranna - Prakash Rai rocking in emotional scenes he has acted
#Ranna - Chikkana and Tabla Naani rocking in comedy scenes with great timing
Ranna - Thithili thithili song very colorful picturization in abroad
Ranna -Sadhu kokila entry ..entire theatre is going bersek..hilarious
Ranna - Oh my god ..Kichaa sudeep delivering north Karnataka style dialogues.. Simply out of world..
Ranna - Mind blowing post interval fight ..one of the stylish ever.Sudeep at his best ..Hari Krishna BGM at his best..
#Ranna Hari Krishna's BGM is kickass in jeep chasing scene and fight
#Ranna - Seereli hudgeera song beautiful picturization
#Ranna - Hari Krishna cud have been better in background score during emotional scenes..telgu version had better bgm during emotional scenes
#Ranna - Interval.Pretty Good first half.Mild emotions.. fights.BGM during fights.comedy..performances lifting the movie..
Ranna - Neat climax.good finish..Good family entertainer..3.6999/5
Shyam Prasad Posted
Ranna. Nanda Kishore comes up with innovative credit roll again
Ranna interval. Family drama.
Ranna second half going everywhere
Ranna. Wandering second half saved in the climax. 3.5/5
cineloka.co.in Posted
@KicchaSudeep's #RANNA - Kickass entry by Kichcha.. He is looking the best
@KicchaSudeep's #RANNA - First fight is well composed.... Good dialogues too..
@KicchaSudeep #RANNA - Babber SHer song - Superb choreography by @ImranSardhariya. Crowd whistling to the core.
Sunayana Suresh Tweeted
What a crowd outside #Narthaki for #Ranna @BangaloreTimes1
And now @KicchaSudeep's entry causes commotion excitement and a mini stampede. #Ranna @BangaloreTimes1
So the crowds are nice to see from far only. I waited till the cops dispersed the crowd before I stepped out of #Narthaki. #Ranna
Catch @varusarath @thukralnikita @priyamani6 @soniya_agg in a special track in #Ranna. All ladies lovely. Added bonus for fans
S Shyam Prasad Tweeted
Ranna. Nanda Kishore comes up with innovative credit roll again
UMESH.N :-) Wrote
#ranna 1half done ... Kiccha's rocking entry ..!! Nani and chikkana superp comedy ..!! Madhu and devraj acting ..!! paisa vasool ...!!
NamCinema.com Posted
#Ranna interval update - Very stylish and rich making! @KicchaSudeep looks and mannerisms too good! @IamChikkanna as usual rocking :)
MovieLovers Posted
#RANNA final verdict:Nt up 2 expectations as usual its another #MAANIKYA starting 3days fans wil say super but frm 4th day FLOP
RAting:2.5/5
RJ Sudesh Bhat Posted
#Ranna brilliantly done.
#Seereli song will no doubt be the bhajan of ethnic day @ colleges.
karthikkashyap Wrote
@KicchaSudeep #Ranna The movie is just fab, Richer than telugu version and the star crew is amazing ur acting in climax is the best it rocks
kicchaRAHUL© Posted
...Good morning friends...
#Ranna film is super dont miss it friends :-*
Nine nama gulbarga @kicchaSudeep fans.
chetan shetty Posted
@KicchaSudeep #Ranna awesome movie ..Kudos to Nanda & team..family entertainer
Vinay R Tweeted
@KicchaSudeep anna #Ranna awesome movie :-) U r looking fantastic in d movie :-) Mind blowing acting..super climax... pakka entertainer..