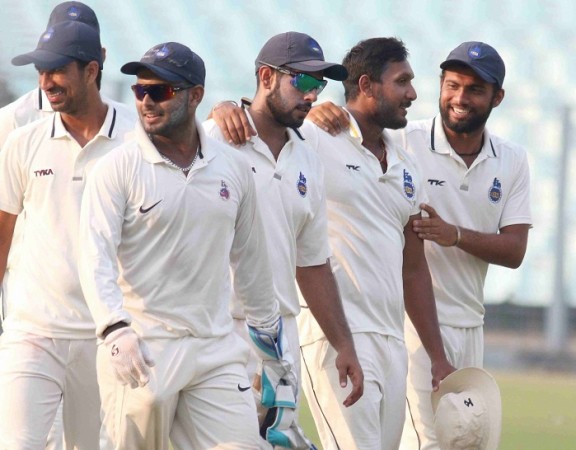 Gujarat continued their first innings batting on Day 2 of the Ranji Trophy final against Mumbai at Indore on Wednesday, January 11. Their two openers Samit Gohel (4, 34b) and Priyank Panchal (6, 51b) were expected to put in a good performance, but they were both caught out before they could settle in. Panchal still needs another 140 runs to go past VVS Laxman's record of most runs in a single season in Ranji Trophy.
Also read: World Cricket schedule 2017
Despite that slow start by Gujarat's two openers, their middle order batsman got them back on track. Their captain Parthiv Patel (90, 146b, 12x4) contributed the most as the wicketkeeper just missed out on a hundred after getting caught out by Abhishek Nayar. Manprit Juneja (77, 95b, 11x4) and Bhargav Merai (45, 100b, 7x4) also put in a decent shift with the bat along with their captain as they look to prevent Mumbai from winning their 42nd Ranji Trophy title.
Towards the end of Day 2, Rujul Bhatt (25, 38b, 4x4), who put in a decent shift with the ball on Tuesday, along with Chirag Gandhi (17, 54b, 1x4) and Rush Kalaria (16, 39b, 2x4) put in a strong display with the bat as Gujarat managed the take a 63-run lead with four wickets remaining at the end of day's play. This is the second time that Gujarat have taken a first innings lead against Mumbai this season. They are the first side to do this to Mumbai in a Ranji season in the last ten years.
Mumbai were a little bit sloppy while fielding on Wednesday dropping a few simple catches. Despite being really expensive with the ball, Abhishek Nayar picked up the three important wickets of Priyank Panchal, Bhargav Merai and Parthiv Patel. Shardul Thakur picked up two wickets and Balwinder Sandhu picked up a wicket.
Gujarat managed to put up a total of 291 for six wickets in 92 overs on Day 2 of the 2016-17 Ranji Trophy final.
Score: First Innings: Mumbai: 228 all out in 83.5 overs
First Innings: Gujarat: 291/6 in 92 overs
Gujarat lead by 63 runs with 4 wickets remaining.
Bowling: First Innings: Mumbai: Shardul Thakur23-4-67-2, Balwinder Sandhu 21-2-54-1, Abhishek Nayar 27-6-91-3, Vijay Gohil 8-0-34-0, Vishal Dabholkar 9-3-21-0, Siddhesh Lad 4-0-18-0
Fall of wickets: First innings: Gujarat: 1-11 Gohel (10.2 overs), 2-37 Panchal (19.2 overs), 3-106 Merai (42.2 overs), 4-226 PA Patel (68.3 overs), 5-254 Juneja (73.4 overs), 6-264 Bhatt (80.4 overs)