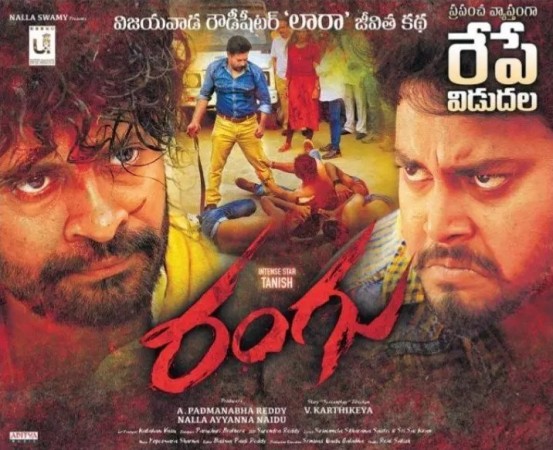 Director Karthikeya's Telugu movie Rangu featuring Tanish, Priya Singh and Ravindranadh in the lead roles has received positive review and rating from the audience.
Rangu is an action drama and director Karthikeya has written the story and screenplay, while Parachuri Brothers penned the dialogues for the movie, which has been produced by Padmanabha Reddy. The film has received a U/A certificate from the censor board and its runtime is 2.35 hours.
Rangu movie story: Based on the true story of a Vijayawada student LARA(Tanish), who faced bitter experiences and their Severe consequences in his life.
Performance: Tanish has delivered a decent performance, which is the highlight of Rangu. Priya Singh and Ravindranadh have done good jobs and their acting are also among the assets of the film. Shaif, Posani Krishna Murali, Paruchuri Venkatesh, Ashok Kumar and Raghu have done justice to their roles, say the audience.
Technical: Rangu has good production values and Yogendra Sharma's music, Surendra Reddy's camera work, Parachuri Brother's dialogues and action choreography are the attractions on the technical front, add the viewers.
Rangu movie review live updates: We bring you some viewers' reaction to the film shared on Twitter. Continue to read audience's response.
GoVardhan Rao Bayana @Goo_GoVardhan
Surprisingly #Rangu this Action Drama was dealt in a Sensible way with Good emotions. Intense & realistic action film based on Vijayawada gangster #Lara's life. Tanish Alladi portrayed it very well. One of his best performances i would say. Good job by debutant Director #Karthikeya.#Parachuri brothers dialogues,BGM, Cinematography are big plusWatch it..You won't disappoint #Rangu Can try it for the weekend
Sandeep‏ @iamsandeep_7
#Rangu movie is a super film. I have just watched it.. chaala bagundi cinema naku baga nachindi cinema super @IAmTanishAlladi anna .. congratulations
Suresh Kondi‏ @V6_Suresh
#Rangu has been watched.surprisingly it's very good. Intense & realistic action film based on Vijayawada gangster #Lara's life. @IAmTanishAlladi portrayed it very well. One of his best performances. Good job by debutant Dir #Karthikeya.#Parachuri bros dialogues are big plus @IAmTanishAlladi Didn't expect the film will be this good bhayya..!!Loved it. Chala intense ga chesaru meeru..Hope your hard work will be paid off . #Rangu
Pavan Kumar‏ @paulpavan78
#Rangu is very realistic intense emotional action entertainer film. @IAmTanishAlladi put his heart and soul and delivered out standing performance. Director #Karthik delivered a gripping thriller. #Rangu An excellent emotional film, give a try.. releasing tomorrow
SUNDEEPTELUGUCINEMAS‏ @telugucinemas1
#Rangu is the right film at right time 4 @IAmTanishAlladi & he has bounced back he performed with high intense emotions movie looks fresh & realistic director has Long way to go watch and enjoy this flick tomorrow congrats to team @GSKMediaSreenu @V6_Suresh #Karthikeya #Rangu
Kumar Sriramaneni‏ @KumarTV5Cinema
#Rangu is well scripted film in recent times. Top notch performance by @IAmTanishAlladi Great Contribution of #ParuchuriBrothers and #Sirivennela It's a real story of Vijayawada gangster #Lara Last 30 min is heart melting. One more talented directer introduced by #Rangu