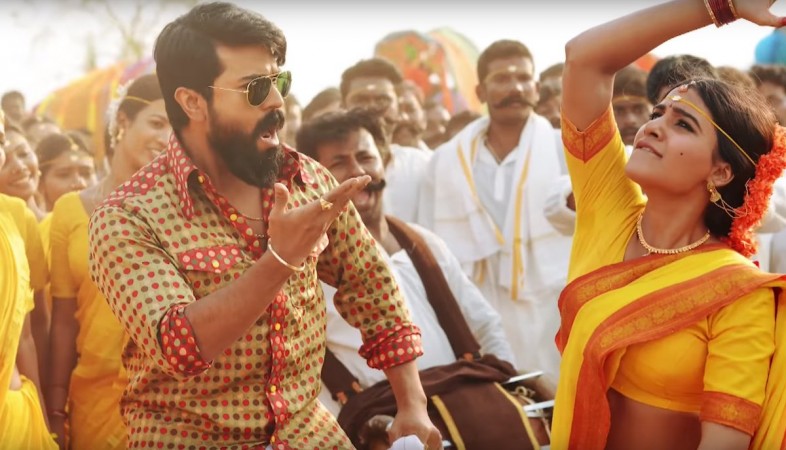 Rangamma Mangamma, the third song from Ram Charan and Sukumar's Rangasthalam is garnering good reviews. The lyrical video was released on YouTube on March 8 as a Women's Day treat to all. The video featured stills of Samantha and Ram Charan. And fans are piqued to watch the actual video song, thanks to Sam's cute and naughty expressions.
The makers of Rangasthalam released its third song after getting a huge response after the success of songs Yentha Sakkagunnaave and Ranga Ranga Rangasthalaana. Like the first two songs, this one has also struck a chord with music lovers and gone viral on the social media minutes after it hit the internet.
Singer MM Manasi has rendered her voice for the song which is composed by Devi Sri Prasad, and the lyrics are written by Chandrabose. Lahri Music Channel released it on YouTube. The video has received 2,098,587 views, 96,000 likes and 7,193 comments in 15 hours, since its release.
The song which is peppy as it rustic rhythmic beats, teasing lyrics and Manasi's velvety voice, will surely strike a chord with many more listeners. Samantha plays the role of a village belle opposite Ram Charan in Rangasthalama.
Of late, Samantha is experimenting with a lot of de-glam roles. Samantha's cute village belle expressions in the video have made fans curious, and many have requested the makers to release the music video.
Director Harish Shankar tweeted, "Dnt judge me by this but wanna say ... this is my Altym favt song in recent times Hats off to @ThisIsDSP Kudos to @boselyricist and last but not least Director Sukku ...for his fantastic taste "
Telugu film critic Idlebrain Jeevi tweeted, "#RangammaMangamma song from #Rangasthalam is peppy with rhythmic music, teasing lyrics and tantalising voice. @Samanthaprabhu2 shows so many folk expressions which are genuine and village oriented! Lovely song "
Ganesh Ravuri tweeted, "Mass amma mass amma... Manasi adaragottavamma.. Aa backdrop ki, aa characters ki perfect set ayindi.. eagerly waiting for the video of #RangammaMangamma "
Telugu360 tweeted, "#RangammaMangamma - Nostalgic and tantalizingly rustic. Takes us back to the era of Mooga Manasulu's Jamuna, Dasara Bullodu's Vanisri which were not just fun to watch but also had a tinge of boldness when expressing love!"