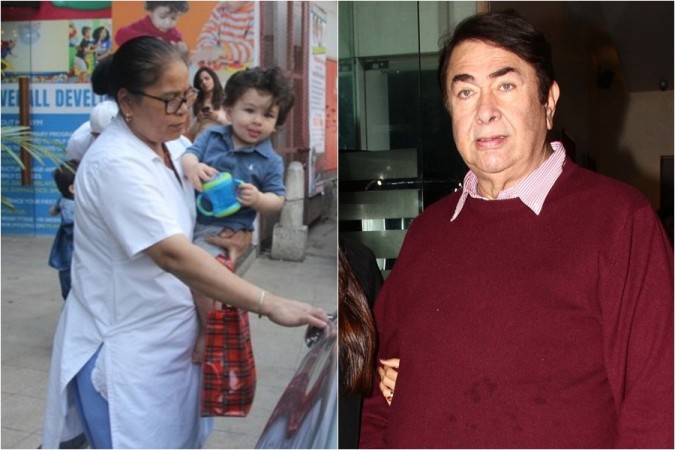 Kareena Kapoor and Saif Ali Khan's 1-year-old son Taimur Ali Khan Pataudi has become an apple of the eye on the internet. He has garnered a massive fan following on various social media platforms with thousands of fan pages named after him that are abuzz with his adorable pictures.
But his grandfather and veteran actor Randhir Kapoor, who turned 71 on February 15, is not really happy with Taimur's popularity and believes that the normalcy of his childhood has been robbed due to the media attention.
"Certainly, it has been robbed. Everyday, I get up in the morning and I see a picture of my grandson in newspapers. Now everyone recognizes his maid also! That's because of the paparazzi," Kapoor was quoted as saying by PTI. He was speaking at a panel discussion last night during Raj Kapoor Awards for Excellence in Entertainment along with brothers Rishi Kapoor and Rajiv Kapoor in Mumbai.
Randhir also added that the media is responsible for creating celebrity airport looks and gym looks. To which his brother Rishi quipped, "There is a 'chautha look' too. You go to a funereal and everyone is like 'look at his shade, the glasses'."
During the panel discussion, when veteran filmmaker Ramesh Sippy asked the Kapoor brothers about growing up with an illustrious father, uncles and grandfather, Rishi said, "We were brought up as normal children, never allowed to go to the studio. Probably on Saturdays and Sundays, we would go and watch a shoot, that too our father's, but otherwise we were never allowed."
"We knew that our father was an important, big man. Wherever we went, people saw us, gave us a table in the restaurant, so there was something about our father but we didn't know he was a star...We knew he was an important man, that's it. Nothing beyond that," he added.
Randhir Kapoor is currently celebrating his 71st birthday along with his wife, two daughters Karisma and Kareena who was accompanied by her husband Saif Ali Khan at the Pataudi Palace in Haryana.
Talking about Taimur, recently, a news channel reportedly covered the story of how the little prince of Pataudi lost his favorite toy and felt very bad after he couldn't retrieve it. The report also said that the CID wing had taken up the task of finding the toy at any cost. And it remained a mystery why the reputed news channel aired such a news at all.
Even when Internet's new found sensation Priya Prakash Varrier was mesmerizing everyone with her magical wink, netizens found a way to mention how Taimur was upset with the people who instantly forgot him for a new girl.
This shows that Taimur really has a special place in people's hearts.
(With PTI Inputs)