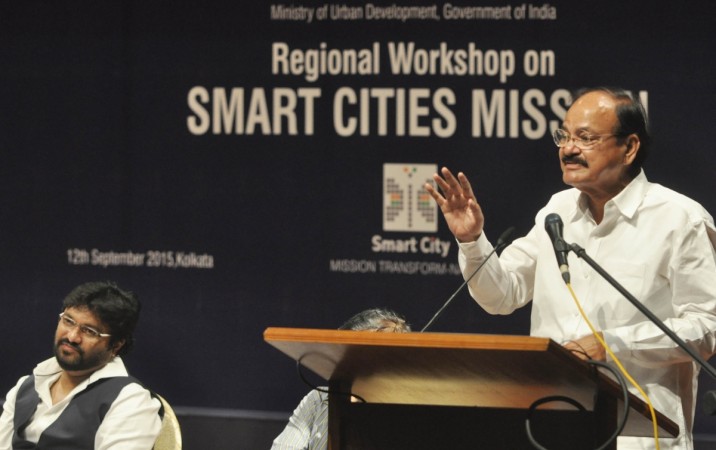 The Ministry of Urban Development on Tuesday selected 13 new cities, including Ranchi, Bhagalpur, and Port Blair, for the first phase of its Smart Cities Mission. This is in addition to the list of 20 cities that was announced in January this year.
The Centre has so far selected 33 cities for the Smart Cities Mission based on the result of Smart City Challenge Competition. The 13 cities were not named in the first list as they reportedly lacked the criteria to be considered smart cities, but they were included in the second list once sanitation and governance improved.
"The 13 cities have substantially improved their smart city plans by addressing the deficiencies identified in the first round of competition by ensuring better profiling of respective cities in terms of infrastructure gaps and baseline service levels, ensuring consistency between citizens' aspirations and action plans, more feasible resource mobilisation plans and coordinated and integrated picture of how individual projects will contribute to area level changes," Live Mint quoted Urban development minister M Venkaiah Naidu as saying.
The opposition parties had raised objections when the first list was released, saying all the cities the Centre selected were from the NDA-ruled states, Hindustan Times reported. The second list, however, has cities from Bihar that is ruled by Nitish Kumar's JD(U), the Samajwadi Party-ruled Uttar Pradesh, and the Congress-ruled Himachal Pradesh and Manipur.
Prime Minister Narendra Modi had promised his government would develop 100 smart cities. So far 98 cities have been shortlisted. Meerut and Rai Bareilly in Uttar Pradesh and Jammu and Srinagar in Jammu & Kashmir are in contention to fill the two vacant seats.
The Centre has estimated that about Rs. 96,000 crore will be needed to complete the mission and has allocated Rs. 48,000 crore. The money will be allotted to the urban local bodies over a period of five years. The state governments will have to raise another Rs. 48,000 crore to upgrade the selected cities as smart cities.
The 100 smart cities will reportedly have adequate water supply, assured electricity supply, sanitation, solid waste management, efficient urban mobility and public transport, affordable housing, IT connectivity and digitalisation, good governance, citizen participation, sustainable environment, health, education, and safety and security of citizens, particularly women, children and the elderly.
Following is the list of the 13 new smart cities:
| | |
| --- | --- |
| Cities | States |
| Lucknow | Uttar Pradesh |
| Bhagalpur | Bihar |
| New Town, Kolkata | West Bengal |
| Faridabad | Haryana |
| Chandigarh | Capital of Punjab and Haryana |
| Raipur | Chhattisgarh |
| Ranchi | Jharkhand |
| Dharamshala | Himachal Pradesh |
| Warangal | Telangana |
| Panaji | Goa |
| Agartala | Tripura |
| Imphal | Manipur |
| Port Blair | Andaman and Nicobar Islands |