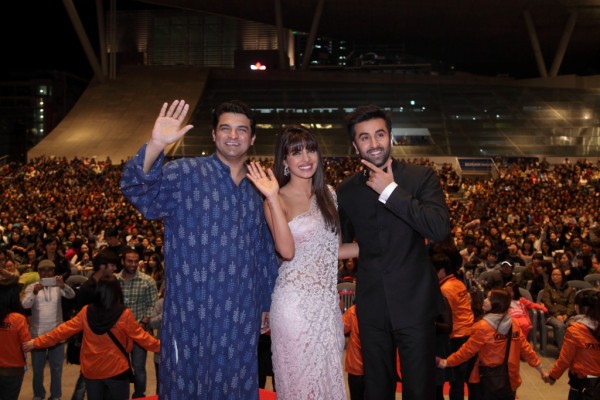 After making it to the Oscar as India's official entry for the foreign film category, director Anurag Basu's critically acclaimed film "Barfi" won the hearts of the movie buffs at the Busan International Film Festival.
"Barfi" featuring Ranbir Kapoor, Priyanka Chopra and Ileana D'cruz was screened at Busan International Film Festival in South Korea on Thursday evening where it received standing ovation from an audience of around 4, 000 people. The movie received an amazing response from the people.
Ranbir Kapoor, who was present at the festival, was voted as the most successful overseas star after Salman Khan.
"We are thrilled by the amazing reception we have received from audiences who came from across the globe to attend the festival. We received a standing ovation at the end of the screening which was both exhilarating and humbling for us. Barfi! is a very special film for all of us involved. To see 4000 people here at this screening is truly inspiring! Now we would like for people in Korea to come back with their loved ones to watch the film in theatres," Ranbir said, according to Box Office India.
Priyanka Chopra also said: "I am thrilled with the response received for the film and also for my performance. This was the first film festival to showcase 'Barfi!' and I'm looking forward to many more."
Released on Sep. 14, "Barfi" did well at domestic as well as overseas box office. It has crossed Rs 100 crore mark at domestic box office.
It has beaten Akshay Kumar's starrer "Houseful 2" in terms of collection to become the 4th biggest grosser film of the year after Salman Khan's "Ek Tha Tiger", Akshay Kumar's "Rowdy Rathore" and Hrtihik Roshan's "Agneepath".