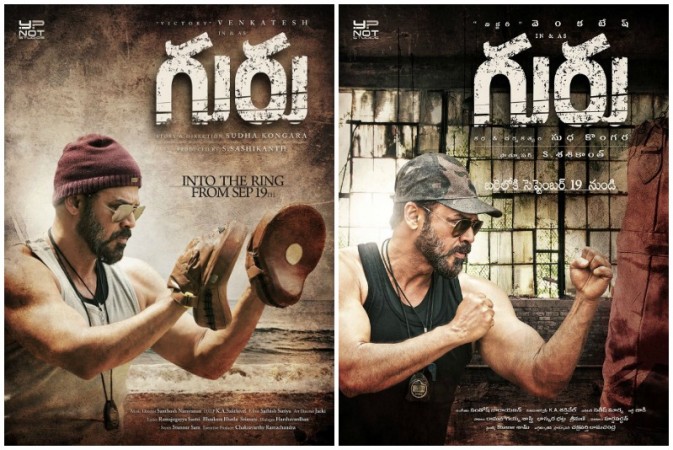 Rana Daggubati has revealed the first look of his uncle Victory Venkatesh in his upcoming Telugu movie "Guru." The posters have impressed the audience and made them wait eagerly for its release.
Hours before launching the first look on Sept 16, Rana Daggubati informed his Twitter followers about his excitement over releasing the posters of "Guru." The "Baahubali" actor tweeted: "Excited to reveal the first look of #VictoryV next at 5pm #sudha @sash041075 @ritika_offl @StudiosYNot #Venkatesh."
Later in the evening, Rana Daggubati unveiled two first look posters and wrote: And here it is #VictoryV in and as #Guru #sudha @sash041075 @ritika_offl @StudiosYNot" He added: "#And here's another one from VictoryVenkatesh #Guru #sudha @sash041075 @ritika_offl @StudiosYNot"
Within minutes after their release, the posters of "Guru" went viral on social media and hashtag #Guru started trending on Twitter and Facebook on Sept 16.
Mahesh S Koneru tweeted: And here it is.. The superb #Guru1stLook.. Venky looks raw and gritty in this official remake of #IrudhiSuttru..
Vamsi Kaka tweeted: Here is the terrific 1st look poster of Victory Venkatesh's #Guru #Guru1stLook
"Guru" is an official remake of Sudha Kongara Prasad's bilingual movie titled "Saala Khadoos" in Hindi and "Irudhi Suttru" in Tamil. Having released in cinema halls on Jan. 29, both the versions were received well by the audience everywhere and have made decent collection at the worldwide box office.
Written by Sudha Kongara Prasad, Prabhu Selvaraj (Madhavan) is a talented boxer, but he fails to make it big due to the dirty politics in the boxing association. He turns a coach for the women's boxing teams ten years later. How he trains a roadside fish seller, Madhi (Ritika Singh), and makes her a champion with poor infrastructure forms the crux of the story.
S Sashikanth, who bankrolled "Irudhi Suttru," is producing its Telugu remake, while Sudha Kongara Prasad directs the film "Guru." Victory Venkatesh is seen playing the lead role originally played by R Madhavan, Ritika Singh essays the role that she played in the original versions.
After Rana released the first look, Ritika Singh took to her Facebook to confirm her role in "Guru." She posted: "I am ABSOLUTELY IN LOVE with the first look of the Telugu remake of #SaalaKhadoos and #IrudhiSuttru. This film is going to be called #Guru And it's also my fourth film :') I'm really excited to start filming for Guru ❤️ And I think #Venkatesh Sir looks What do you guys think about the first look?"