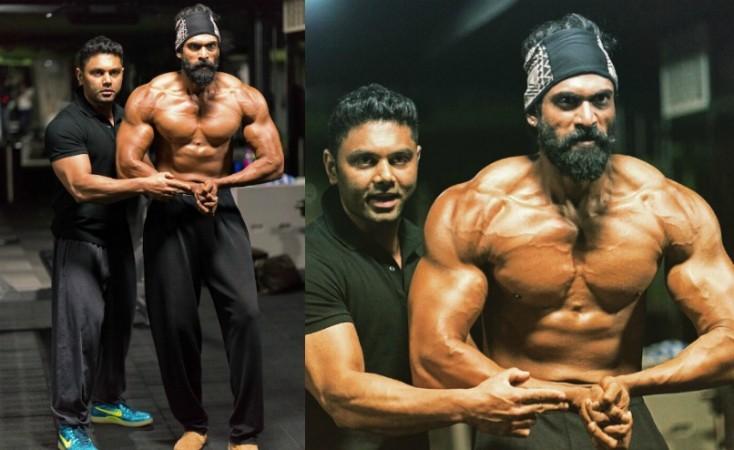 Actor Rana Daggubati, who is seen playing Bhallala Deva in the Baahubali (Bahubali) film series, says he has lost over 15-KG weight to play the younger version of his role in Baahubali: The Conclusion.
Rana Daggubati took to his Twitter handle this morning to share a couple of photos with his followers. The pictures offer a glimpse at his chiseled body built for Baahubali: The Conclusion. Besides posting images, he also wrote: "Here goes the new and improved me!! #BiggerMeanerStronger for @BaahubaliMovie with @KunalGir."
It is cakewalk for Rana Daggubati to lose and gain weight for his film roles. "The older Bhallala is stronger and beefier, so I weighed around 108-110 kg for some portions in both the films. His younger version is strong too, but leaner. So I lost a few kilos for that. My weight has dropped to 92-93 kg now," Rana said IANS.
Daggubati said that he has been training for two and a half hours daily over the last five months to get in to a proper shape for his role in the sequel, "I've been shuttling between cardio and weight training."
Rana Daggubati trainer Kunal Gir, who is a sports nutritionist, is monitoring the diet of the actor, who has been consuming foods high on carbs and proteins and oil free. "I eat every two and a half hours and there's a nutritionist present around the clock. He conducts regular check-ups to ensure that we are on the right track," he said.
Rana Daggubati has almost completed the shooting for his portions in director SS Rajamouli's Baahubali: The Conclusion, which is scheduled to be released cinema halls around the world 28 April 2016. The fans of Daggubati are eagerly waiting to have a glimpse at his look in the second installment in the Baahubali film series.