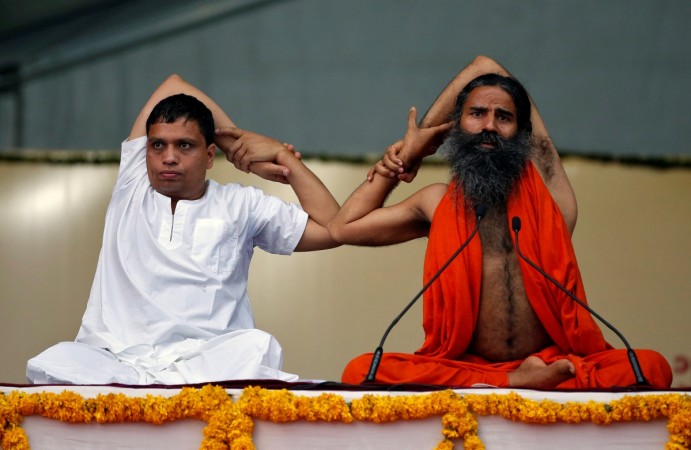 Yoga guru turned entrepreneur Ramdev said, his company plans to acquire land in Kashmir, which has been the epicentre of unrest for the past one year. The saffron clad Swami is also likely to employ youth from the state. Patanjali is in the process to acquire 150 acres of land in Jammu and Kashmir to build its unit.
While taking questions on violence in the Kashmir Valley, he said children should be taught good values towards different religions so as to bring harmony among religions.
Speaking about terrorism in the country, especially in Kashmir, Ramdev said, "Anyone who masters the art of Yoga can never become a terrorist."
"Not a single person who mastered Yoga ever became a terrorist in history," Business Standard reported.The yoga guru who can be spotted in the news of late for expansions of FMCG business believes that yoga can cure the thought process of those creating menace in the Kashmir valley.
After using his brand to sell products ranging from shampoo to cereals to instant noodles, now Ramdev's 'swadeshi' label plans to sell clothes. With a sales target of Rs 5,000 crore, Patanjali aims to launch its apparels section for men and women by April 2018. "We'll start with woven clothes, knitwear and machine-made apparel, including denims," said Patanjali's spokesperson S K Tijarawala.
At a time when Prime Minister Modi is asking countrymen to embrace technology, Ramdev's Patanjali recently tied up with social media giants—Google and Facebook, to market the brand on a digital platform.
The yoga master has raised his voice to boycott Chinese goods as Indo-China border tensions escalated over the past few weeks. Ramdev urged people of India to boycott Chinese products for the reason that it (China) supports Pakistan. "India is ready to counter China on every front," Ramdev said.
Earlier this year, media reports revealed that Patanjali is India's second largest advertiser only after FMCG giant Unilever. The company also has plans to expand its business in countries like Bangladesh, African countries and even Pakistan.
"I have been to Nepal, will be going to Bangladesh and African countries and one day will go to Pakistan as well. We should help poor countries. If poverty of Pakistan is eradicated, that country will never be the enemy of India," Ramdev said at the 7th Bhartiya Chhatra Sansad held at Pune.