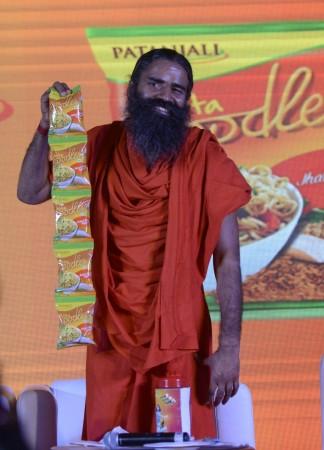 Patanjali Ayurved Limited, India's new FMCG company whose products are promoted by yoga guru Ramdev, is India's top brand, according to Broadcast Audience Research Council (BARC) India.
The brand was ranked ahead of established FMCG brands such as Cadbury, Parle and Horlicks, according to BARC India's data for the period 23-29 January, 2016 (week 4), which the agency released on Friday.
BARC India is an industry body that measures and disseminates television audience viewership data on a weekly basis.
Patanjali was ranked much lower in the previous week.
Patanjali's products, which include toothpaste, noodles, rice, chyawanprash, personal care and Ayurveda products, are doing brisk business even as established FMCG players such as Hindustan Unilever (HUL) and Dabur India are facing sluggish growth, besides competition from the Haridwar-based company.
Currently, monthly sales of Patanjali products hover around Rs 30 crore.
Kishore Biyani, CEO of Future Group, which retails Patanjali products through its Big Bazaar outlets, had earlier said Patanjali Ayurved is growing at a faster clip and is projected to reach Rs 1,000 crore within 12-18 months.
"The demand is much more than the supply of Patanjali products, so supply also needs to be fixed. However, once everything is fixed up, we can achieve Rs 70-80 crore a month probably in the next 12 months' time," Biyani had told business news channel CNBC-TV18.
"We have an understanding that we want to touch close to Rs 1,000 crore by next year," he had added.
HUL reported a modest growth of 2.7% growth in revenues at Rs 7,981 crore and 22% decline in net profit at Rs 971 crore for the third quarter, ended 31 December, 2015, as compared to the corresponding period last fiscal.