The Sector 16 cricket stadium in Chandigarh, which used to be the training ground for cricket greats like Kapil Dev, Yuvraj Singh and Harbhajan Singh, will serve as an ad-hoc jail to detain troublemakers in the event of a violence on the day of Dera Sacha Sauda chief Gurmeet Ram Rahim Singh's rape case verdict.
The Panchkula CBI court will give its verdict in the rape case on August 25. Massive security arrangements have been put in place across Punjab and Haryana to maintain law and order. A high alert has been sounded in both states.
All Dera followers trying to enter Chandigarh or already have entered the city will be detained and kept at the stadium, the Union Territory administration said on Tuesday. The stadium has a capacity to hold over 20,000 people. The followers will be kept in the stadium until the situation is back to normal.
Around 10 lakh Dera followers are expected to gather in the Tricity on August 25, the day of the verdict, TOI reported citing intelligence inputs. "We are expecting thousands of followers to try to sneak into the city. We can't keep such a large number of people in a lock-up and this is why we chose the stadium," a senior police officer said.
According to the Punjab police, Dera Sacha Sauda's 'Naam Charcha Ghar' has been stockpiling petrol, diesel and weapons.
On behalf of the director general of police (law and order), the inspector general of police (law and order) has issued a letter to all SSPs, commissioner of police and IGPs directing them to remain alert against untoward actions by the Dera followers, Hindustan Times reported.
"It has come to light that the Dera Sacha Sauda in its Naam Charcha Ghar has started storing diesel and petrol and have also started storing sharp-edged weapons on roofs. They may use this against government property or police on August 25 if verdict of the court comes against dera. You all are requested to check this sort of activities by the dera in your region, and depute appropriate manpower to prevent such activity," the letter read.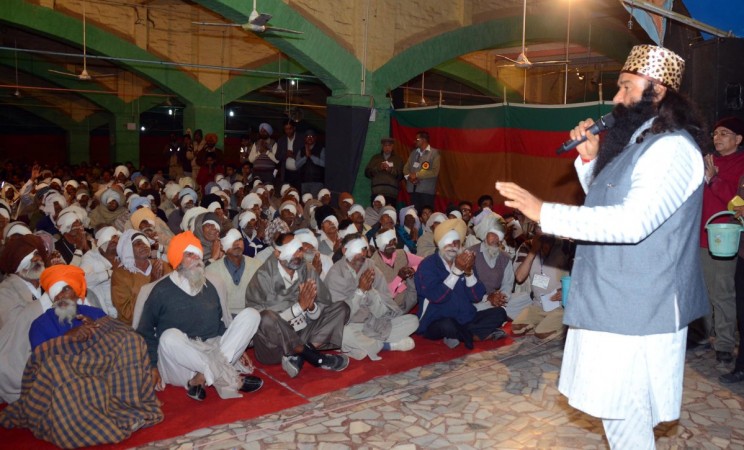 97 paramilitary troops called in
Security arrangements have been put in place in Panchkula, Chandigarh and all across Haryana and Punjab to maintain law and order on the day of the verdict. Section 144 of CrPC is in force in Panchkula and adjoining areas.
Ninety-seven troops of the paramilitary forces, including the Rapid Action Force (RPF) and the Central Reserve Police Force (CRPF), will be deployed in Panchkula on the day of the verdict, ANI reported. Leave applications of all policemen have been cancelled while those on leave have been asked to return immediately.
All borders adjoining Punjab and Haryana would be sealed. The police have also planned to use schools and government buildings to detain Dera followers. Additional forces will be garrisoned outside the houses of governors and chief ministers of Punjab and Haryana a day before the verdict. Roads leading to the court have also been blocked.
Around 50,000 followers have already gathered at the Dera Sacha Sauda's sect Naam Charcha Ghar and the numbers are increasing every hour, the Hindustan Times reported quoting sources. Followers are sitting on the roadside and have pitched tents or taken shelter in parks. Stalls providing medicine and other basic services have been set up by those working at the Naam Charcha Ghar.
The police are monitoring people staying at guest houses and hotels. All entry and exit points to Chandigarh are under surveillance. Checkings are being carried out at bus stands and railway stations.
All schools, government and private, will also remain shut on August 24-25 ahead of the verdict.