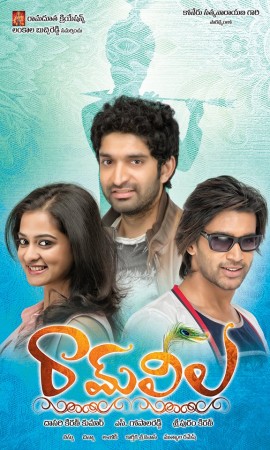 Telugu movie "Ram Leela" (Ramleela) starring Havish, Abhijeeth, Nanditha in the leads, has got negative reviews and poor ratings from film critics, who are upset with the movie's weak script and direction.
"Ram Leela" is a romantic comedy entertainer, which has been written and directed by Sripuram Kiran and produced by Ramadhuta Creations. It is a triangular love story, a recurring theme in Tollywood.
Krish is an NRI working in the USA who comes to India to get married. He falls in love with Sashya at first sight and gets married to her. But after marriage, Sashya refuses to go with him to the USA.
On her advice, he gets transferred to Malaysia. He decides to go on a road trip, but Sashya leaves a note saying that she is going to her lover Ram. What happens next forms the crux of the story.
Havish, Abhijeeth, Nanditha have played the roles of Ram, Krish and Sashya respectively and they have delivered brilliant performances, which are big attraction in the film. The movie boasts of decent work from all technical departments except scripting and direction, which have disappointed critics.
Here, we bring critics' verdict on the movie.
Ramleela is that kind of crap film which lets the audience in all possible fronts. The director failed in all fronts from picking an outdated subject to making a total mess of presentation. Further to the woes, the very inexperienced acting of the main cast further torments the audience. Watching the film is high risk!
Ramleela is a feature that has eighty percent of its runtime devoted to deadening, aggravating and entirely debilitating exposition, which in analytical terms is a feasible imbalance in content. The title in fact says it all. Right from the opening credits which are played out on screen in two discrete halves, we are left with no incertitude's as to where this film is going. To sum it up Ramleela is an magnificent example of the kind of film you never want spend your money on. Bottom Line: Ramleela – A major misfire in every way.
Not much is needed to describe the film. Its an average movie, that can have a glance for this weekend. Can watch, if you don't have any other work to carry out or wait for a DVD to come out.
There is nothing to cherish expect the feel that the movie is completely made in Malaysia. Patience testing, watch it at your own risk!
The film would have been much better if the director worked even more harder. It's okay, at the end of the day, the story is different and good. 'RAM LEELA' can be watched once. This is not a typical movie as we see these days.