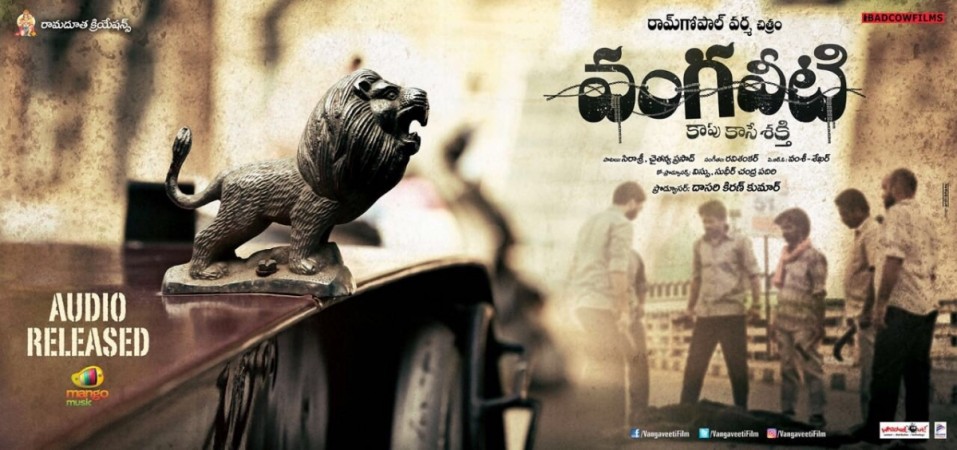 Producer Dasari Kiran Kumar plans to hold a function for the audio release of filmmaker Ram Gopal Varma's upcoming movie Vangaveeti on 3 December.
Vangaveeti is based on the real gang wars in Vijayawada a few decades back and the film has been creating ripples in the media ever since Ram Gopal Varma announced it. The audience is eagerly waiting to experience its trailer and music. The director is set to release the audio in his hometown Vijayawada.
Dasari Kiran kumar took his Twitter handle to reveal the date of its audio launch, which is being held at Koneru Lakshmaiah University Grounds, Vijayawada this Saturday. The producer tweeted this afternoon: "#Vangaveeti audio release on December 3rd at #kluniversity Vijayawada, 5:30 pm onwards."
The music release of Vangaveeti is going to be a starry event with several politicians and celebrities from the Telugu film industry expected to mark their presence. "It's going to be a public event with the organisers expecting a crowd of around 20-30 thousand," Deccan Chronicle quoted a source from the film unit as saying.
Vangaveeti is scheduled to be released in the theatres around the world on December 23. This happens to be the dream project of Ram Gopal Varma, who is all thrilled about the film. "Vangaveeti is my dream project, dealing with politics and rowdy gang cultures of Vijayawada. Some of the scenes are very realistic, as I witnessed these events personally," the filmmaker told.
Vangaveeti is based on the lives of politician Vangaveeti Mohana Ranga and his brother Radha Krishna Rao and their altercation with communist dominated Vijayawada of the 1980s Andhra Pradesh. Debutantes Sandeep, Vamsi Nakkanti, Vamsi Chaganti, Kautilya, Shritej and Naina Ganguly are playing the lead roles in the movie. Its theatrical trailer was released on October 2 and that got a good response.