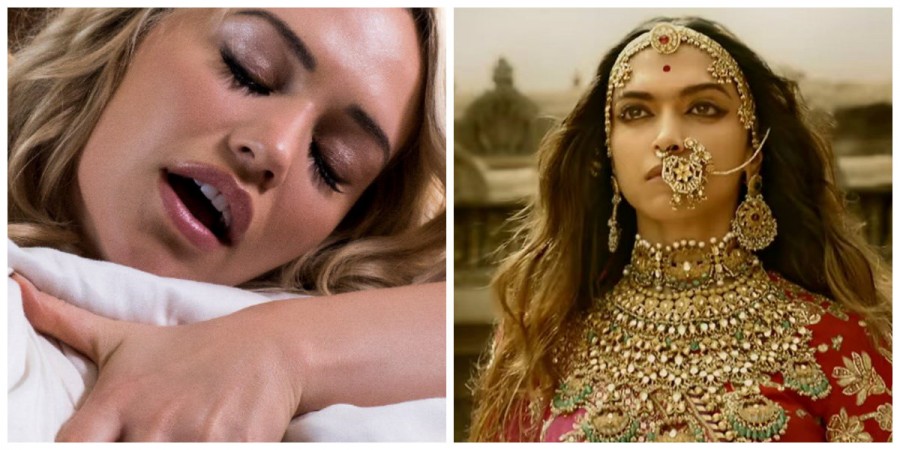 Just a day after Deepika Padukone's Padmaavat release, Ram Gopal Varma directorial God, Sex and Truth (GST) starring Mia Malkova has been released online. Interestingly, RGV has been comparing Deepika and the American porn star's popularity with regard to their respective films.
In his recent tweets, Ram Gopal even claimed that online search for Mia Malkova's God, Sex and Truth on Google in India is more than Deepika's Padmaavat. However, people soon noticed an 'error' in his way of coming to the conclusion and showed him the mirror.
Also read: Woah! Top 5 uncanny similarities between Padmaavat and Game of Thrones
Ram Gopal shared screenshots of Google Trends results on Twitter that showed God, Sex and Truth being more searched on the search engine than Deepika's film in India. "@MiaMalkova's #GodSexTruth is riding on top of @deepikapadukone 's Padmaavat .May the best woman win," he first tweeted with the screenshot.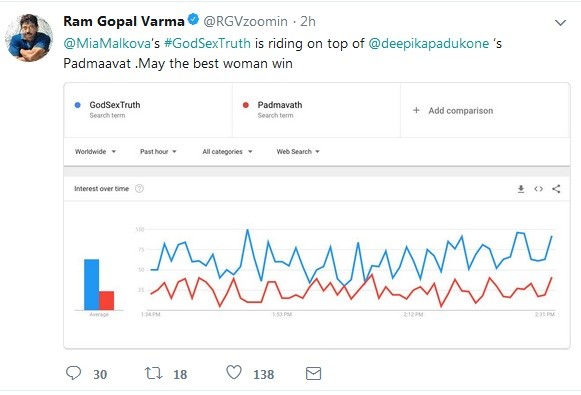 He backed up his claim in a second tweet saying, "Just a wake up call for the protestors ..The search for @MiaMalkova's #GodSexTruth in comparison to Padmaavat is 100% in india compared to 10% in USA."
Ram Gopal apparently went a little offensive in his next tweet as he said, "It looks like @MiaMalkova is very aggressively _______g @deepikapadukone in the name of #GodSexTruth [sic]."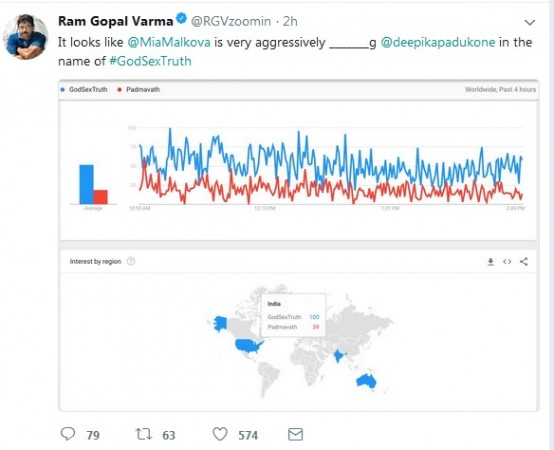 While many believed RGV's claims, some soon noticed that the comparison was not fully accurate as the director made the search for Padmavaat with a wrong spelling. He made the comparison putting Deepika's film as "Padmavath". The actual spelling of the magnum opus is "Padmaavat", and hence, search for God, Sex and Truth showed way more than Padmaavat.
Interestingly, when International Business Times India, checked Google search trends results comparing "God Sex and Truth" and "Padmaavat" in India, search for RGV's film was actually more than Sanjay Leela Bhansali's magnum opus. Another interesting aspect of the trend was, "God Sex and Truth" was being searched only in southern part of India including Tamil Nadu, Karnataka, Andhra Pradesh and Kerala.
IB Times India then checked the search trends between Mia Malkova and Deepika Padukone in India. And the result was again an unexpected one. Search for Mia was way more than Deepika in India. In fact, except for Himachal Pradesh, Sikkim and Arunachal Pradesh, search for Mia was more than Deepika in the entire country.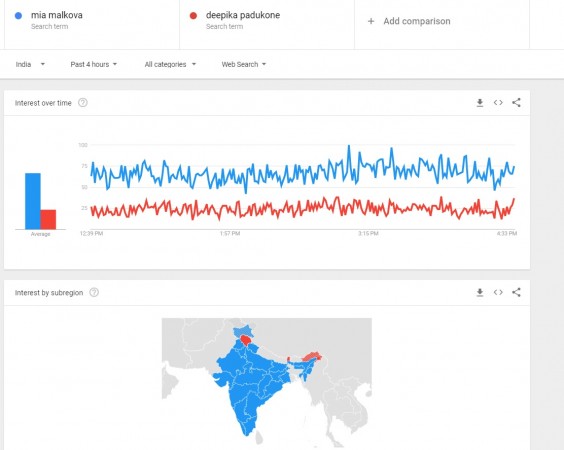 Even Ram Gopal shared the same again on Twitter, and this time he was correct in his research. "Feeling happily sad and sadly happy to see Indians loving foreigner @MiaMalkova more than Indian @deepikapadukone Happy Republic day! Satya Mia Jayathe," he tweeted with the screenshot. However, after realising the goof-up in the previous search patterns in his research, RGV deleted the previous tweets.
Although Mia seems to be winning the race against Deepika in terms of Google search in India on January 26, there is a valid reason behind this too, apart from the duo's popularity. Mia's film God, Sex and Truth is being released only online, while Deepika's Padmaavat is a theatrical release. Also, God, Sex and Truth was supposed to be released on Friday 9 am, but it got delayed for technical reasons, and hence people have been searching for the film on Google.