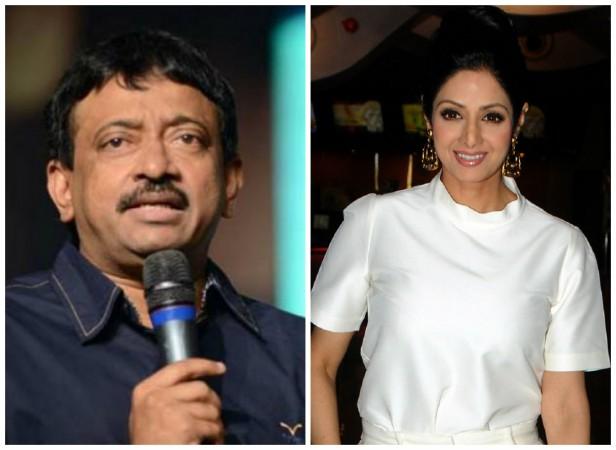 Controversial filmmaker Ram Gopal Varma is reportedly planning to make a biopic on Sridevi, who recently passed away.
RGV, who has been making a lot of comments about Sridevi after she died, is reportedly working on the plot of the film, and will make an official announcement once the story is ready.
Lyricist Sirasri, who is believed to be a close friend of Ram Gopal, reportedly revealed the filmmaker's plans in a recent chat show on a Telugu TV channel.
Ram Gopal and Sridevi had worked together in the film Kshana Kshanam.
RGV has made a series of tweets expressing his sadness at Sridevi's death, but of course in his own controversial style. He recently wrote an open letter, revealing some very private details about Sridevi's life.
While Ram Gopal tried to justify releasing such a write-up by saying that he believes Sridevi's fans have the right to know about her, many criticized the director for making such details public when the actress herself is not here anymore to confirm or deny anything.
In the letter titled "My love letter to Sridevi's fans", RGV made some scandalous revelations about the late actress' life. Mostly talking about the hardships that Sridevi faced in her life, the letter stated that her husband Boney Kapoor's mother once physically assaulted her in public over Boney's separation from his first wife.
In another such revelation, he stated that Sridevi's own sister betrayed her, and once the actress had gone penniless owing to the wrong financial decisions taken by her family members.
The news of Ram Gopal planning to make a film on Sridevi may excite her fans, but will he include all these controversial aspects of the actress' life in the biopic? Only time will tell.
Sridevi died on February 24 due to accidental drowning. According to the forensic report, the 54-year-old actress lost her balance and fell in a bathtub filled with water in a hotel bathroom in Dubai, where she had gone to attend a family wedding.