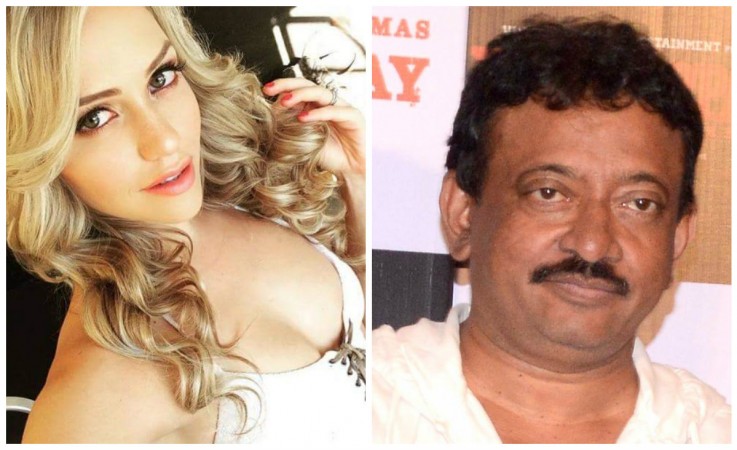 Ram Gopal Varma is back with his next project, and it involves popular porn star Mia Malkova. The filmmaker and Mia have collaborated on a video titled "God, Sex and Truth".
Mia was the first to take to Twitter and share the first look of the video, with a caption saying she is the second adult star after Sunny Leone to have been shot by an Indian feature filmmaker.
"Indian film maker Ram Gopal Varma shot a video with me in Europe titled GOD , SEX and TRUTH I will be the 2nd adult star after @SunnyLeone to be shot by an Indian feature film maker @Rgvzoomin [sic]," she tweeted.
RGV followed soon with his own announcement on the miro-blogging site, and shared a much bolder still. which shows him sitting in front of a nude Mia, apparently explaining something.
"Hey Mia it was such an elevating and thought provoking experience to film #GodSexTruth ..I never shot with @SunnyLeone but will never forget the experience of shooting GOD, SEX and Truth [sic]," the filmmaker tweeted.
The controversial director revealed some details about the video in his following two tweets. "This is not GST as in tax but GST as in GOD,SEX and TRUTH ..I shot this with @MiaMalkova the second adult actress after @SunnyLeone to be shot by a feature film maker #GodSexTruth [sic]," he said,
He added, "#GodSexTruth is about a revolutionary sexual philosophy as professed by @MiaMalkova and encapsulated by me ..it's about telling the Truth behind Sex as intended By God. [sic]"
It is still not clear if God, Sex and Truth will be a short film, but it is certain that it will include a lot of bold content. Mia being an adult entertainment actress, and the kind of stills being shared to promote the video, fans are already excited about the project.