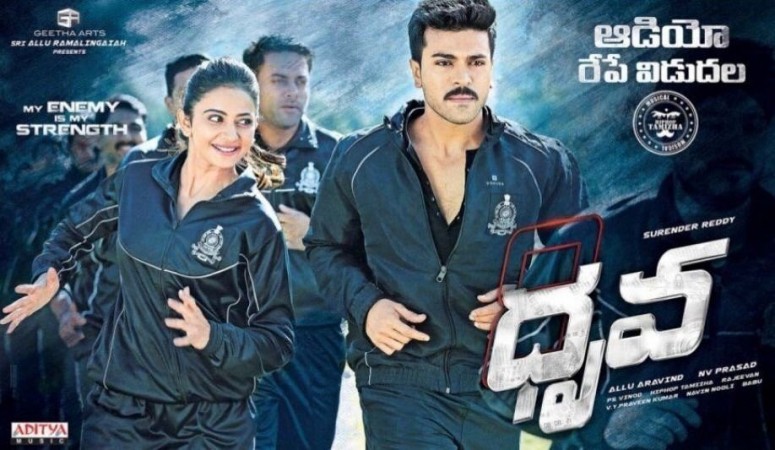 The music album of Ram Charan's Dhruva, which was released online this morning has received positive reviews from the audience. The song chusaa chusaa and title track are the pick of music lovers.
Dhruva is an official remake of hit Tamil movie Thani Oruvan and the film has four soundtracks. Hiphop Tamizha, who composed tunes for the original, has scored music for the songs, while Chandrabose and Yadagiri penned lyrics for 3 and 1 tracks respectively. Amit Mishra, Padmalatha, Sniggy, Vishnu Priya, Hiphop Tamizha and Nikitha Gandhi have rendered their voices for the songs.
Aditya Music, which has bought the music rights of Dhruva, released the jukebox of its audio album on its official YouTube Channel at 12:00 am today. The 13:31-minute-long video has received 232,724 views, 7,897 thumbs up (likes), 481 thumbs down (dislikes) and 1,122 comments most of which are the positive response for the audio album in the 18 hours after its release online.
Many music lovers say that all the songs of Dhruva have fresh tunes and good lyrics and this is the best audio album from a Ram Charan's film after Orange. Hiphop Tamizha has done good job in composing the tracks. The title track of the film and Chusaa chusaa are best songs from the album. Some of the viewers are excited to see Ram Charan's dance moves in the music video of the soundtrack Pareshanura.
We bring you some comments on the music album of Dhruva and the comments are taken from the jukebox released on YouTube. Continue to see Ram Charan's Dhruva music review by audience:
Vikramsooraj: Superb album especially title song and chusaa chusaa songs mind blowing , superb composition hiphop tamizha , really the sound was too good
Ramcharan Tejkota: awesome melody chusa chusa from hip hop....extrodnary lirycs ,awesome tunes,blowing music bits,....all the best for entire team of druva
KING NAG: i loved it..best album after Orange 4 charan...bang bang blasted...title track best...choosa choosa vocals highlight.. great work by hiphop tamiza
Sangappa Malkala: awesome music... every song is different from other. all the best rct...
Shravan KLR: songs are awesome. I liked the tile song and especially the music comes between the lyrics and Neethone song, choose choosa are very nice with different music. What i feel is this will become another Orange in charan's carrier. Waiting for the release
Noor samad: Hiphop Tamizha geat work man, very pleasant and fresh music. great work by lyric writers after long time it is nice to hear some sensible music. but "neethone dance" song music resembles "kaala chasma " song
Bhaskar Naredla: i like choosa choosa song very much nethone dance also superbbbbbbbb this one of the best album of "RAMCHARAN" Except "ORANGE"
Charan thej: dhruva dhruva,chusa chusa on repat mode but pareshanura is like a old classic with modern tuch.kickass debut by hiphop tamizha
Siva kumar reddy sravan: sniggy...amit..awesome fresh voices...fresh music... hip hop u rocked ... you can continue tfi..ATB
Ajaykumar konkati: Stylish and classy music. Unlike repeatative dsp tunes, this one is a good move by surrinder Reddy to cast hip hop tamiza. this is a new level ahead..
Imjermy joy: Refreshing music after so many repeated music days.....thank uuu hiphop tamizah for this album.....
Subudhi Saiesh: Very nice songs ,but expected little powerful songs like Tamil Thani oruvan. No pblmm....Definately this movie is going to rockzz...Story is very powe ful Ram charan is also lukng good in this...Feeling very excited #DEC 8th
Sanjay Reddy: Sounding fresh after long time. Welcome Hiphop Tamiza to Telugu film industry.Your entry looks soo promising. Very nice album.
Keerthu Govin: with cherry's energetic dance moves on screen,neethoney dance will be nice to hear..but now avg only..bht othrr songs are good....great attempt by hiphop tamizha....tamizhandaaa
Mahesh babu: awesome.. Title Song lyrics can be matched to #Modi g haha .. awesome ram charan. #DhruvaMusicBlast..and thank you hip hop Tamizha for giving the best music..We megafans are very happy :)