How often we see a Telugu star actor praising a Kannada movie? Here is an instance where a star has appreciated a hit Sandalwood film.
Ram Charan Teja, who is in Bengaluru on a short break, has praised blockbuster Kannada movie "Mr & Mrs Ramachari". He has also appreciated Yash for his good work.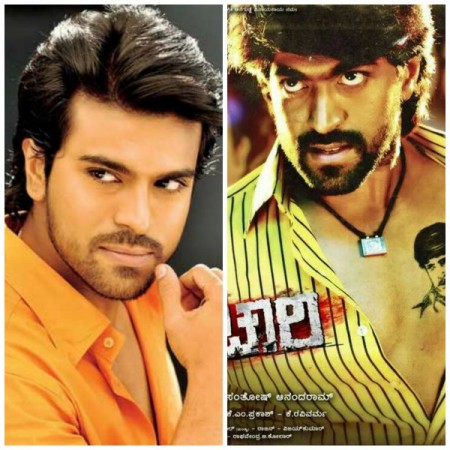 "Mr and Mrs Ramachari is one of the best Kannada films I've seen. Yash, the protagonist, is a phenomenal actor," he told the Times of India.
The "Magadheera" star also reveals that the remake offer had come his way but he rejected it as he was not keen to tamper the original. Ram Charan Teja recalls his mistake to star in "Zanjeer" remake. "I don't wish to do remakes when the original itself is brilliant. Adaptations and extensions though are fine," the actor adds.
Ram Charan Teja says that he is willing to act in a Kannada movie. He prefers doing a cameo before taking up a full-fledged movie. On asking whether he has friends in Sandalwood, the "Chiruta" actor claimed that he knows Sudeep and Kriti Kharbhanda but it is only a professional relationship.
However, "Mr and Mrs Ramachari", which had Radhika Pandit in the female lead role, is one of the biggest hits of Sandalwood in the recent years. The Santhosh Ananddram directorial film is now being remade in other languages including Telugu.
Meanwhile, Ram Charan Raja is busy with Srinu Vaitla's untitled movie. After wrapping up this film, he will be moving on to his uncle and Powerstar Pawan Kalyan's home production.