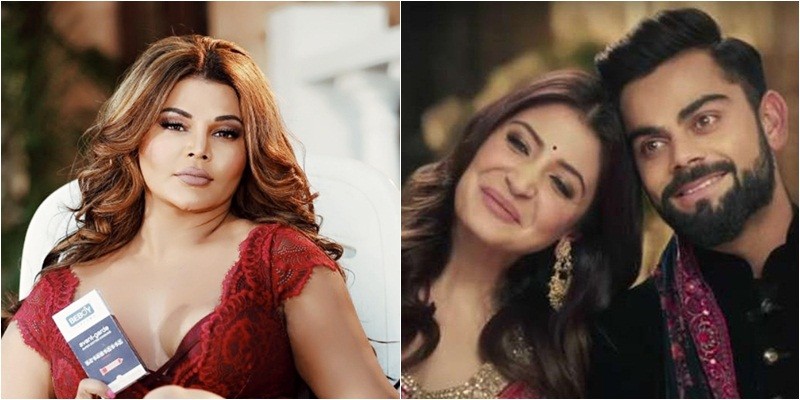 Rakhi Sawant recently came up endorsing a condom brand named Beboy. Now the controversial diva wants newlywed Virat Kohli and Anushka Sharma to try her brand, and share their experience using it.
Rakhi, who is known for making scandalous comments, now said that she wants to gift Virat and Anushka her condoms to "play safe".
"Virat Kohli and Anushka Sharma are the loveliest couple. They have just step in to their married life. I want to gift them my condoms to play safe and share their feedback on the product experiencing it," Rakhi said in a statement.
The model-turned-actress said that her condom brand offers a wide range of flavours, and is capable of giving more pleasure to the people using it.
"I feel my condoms are special. They are first in market to give so many flavours. One can enjoy their sexual life with the taste they enjoy the most. It will help the couple to enjoy for long and will give more pleasure with pressure from the dotted texture," she added.
Rakhi further added that endorsing a condom brand was one of the best decisions in her life, and she is open to endorsing any other better product that will be useful to the society. She even went on to challenge Baba Ramdev to come up with Patanjali condoms.
Earlier, Rakhi had expressed excitement at being part of Beboy condom promotions, and had said that she feels endorsing such a product is no less than a social activity.

"I feel great becoming the face of Beboy Condoms. I feel we need more condom advertisements and promotions. It will help to reduce the number of victims of sexual diseases. I don't know how people are going to judge me but for me, it's no less than any social activity," she had said.
However, the government's decision to put a restriction on condom advertisements on television had irked her. The government had ordered against showing condom advertisements on television between 6 am to 10 pm.
"If condom ads stop, everyone in India will get AIDS. Children will sleep off and they will not know what a condom is and the use of the product. Seems like the government wants Indians to get AIDS. Until children don't see the ads, how will they know about precaution? If they feel it is unsuited for television, they should edit or censor it," Rakhi had told International Business Times, India.