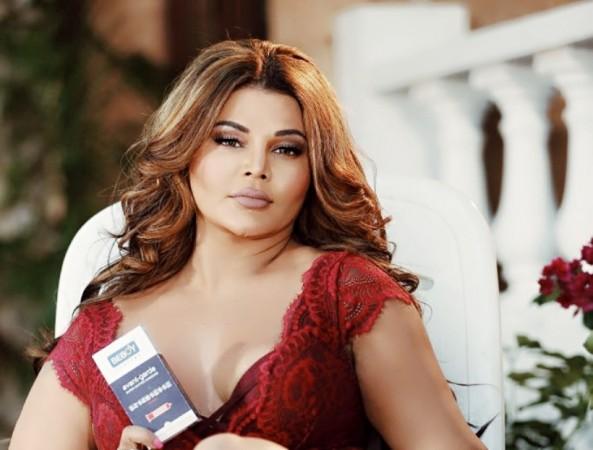 After Bipasha Basu and Sunny Leone, now Rakhi Sawant will be seen endorsing a condom. While fans were eagerly waiting to see the diva in the adult commercials, the new rule banning condom ads between 6 am to 10 pm has disappointed many.
Rakhi Sawant told IBTimes India her thoughts on the ban.
She said:
"Condom ki zada se zada ad honi chayiye. Tabhi logo ko pata chalega ki precaution kyu use hona chayiye – AIDS se bachne k liye. Aur mein ek saamajhik seva kar rahi hu condom ki ad kar k."

Sunny Leone ki chali ad tabhi government n kechi nhi chalayi, Bipasha ki chalayi toh they didn't stop, Rakhi Sawant ki ad ane se pehle itna darr gye.. itna darr gye government..ki unhe itna problem hogya, so unhone ban laga diya – 6 a.m. to 10 p.m.

Condom ki ad band hojaegi toh Hindustan mein sabko AIDS ho jaega.. bacche so jaenge, unko samjh mein nahi aega ki condom ki ad nahi chalegi, unko samajh mein nahi aega ki condom ki konse use k liye hain.. isliye government chahti hain ki Hindustan k logo ko AIDS ho..Jab tak wo ad nhi dekhenge unko kese pata chalega precaution k baare mein..Agar unko ye ashleel ad lagte hain toh they should do editing on it..they should do censor on it."

(There should be more condom ads. More awareness about the product will lead to more precautions; people will know why it should be used, to protect oneself from AIDS for example. I am doing this condom ad as a community service.
The government did not censor condom ads by Sunny Leone or Bipasha. But as soon as the news of Rakhi Sawant's condom ad made headlines, the government put a ban on ads between 6 am to 10 pm. Is the government scared? Do they already have a problem with the ad without even watching it that they put the blanket ban during the day?
If condom ads stop, everyone in India will get AIDS. Children will sleep off and they will not know what a condom is and the use of the product. Seems like the government wants Indians to get AIDS. Until children don't see the ads, how will they know about precaution? If they feel it is unsuited for television, they should edit or censor it.)