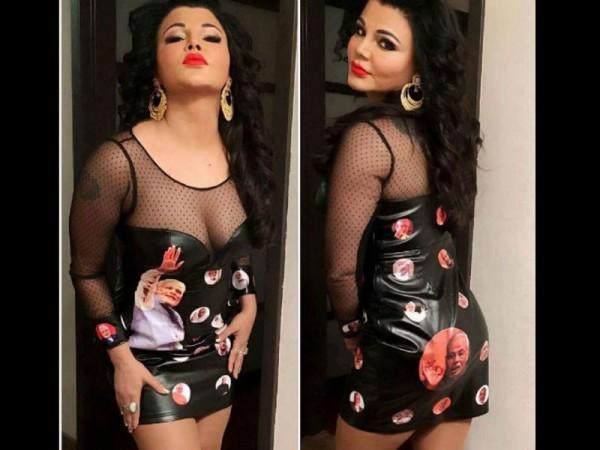 Controversy queen Rakhi Sawant is in news for wearing a dress that has Prime Minister Narendra Modi's pictures printed all over. Rakhi attended a pre-Independence Day celebration at Chicago, wearing a short black dress, plastered with Modi's images in such a manner that will certainly not go down well with many.
The custom made Modi dress has pictures of the PM's face all over it in a strategic manner. Rakhi even danced at the event on popular Bollywood songs. This act of "disrespect" has irked several Modi followers and slammed the controversial diva.
The pictures and videos of Rakhi wearing the Modi dress and dancing at the event went viral on social media. Twitter is flooded with reactions on Rakhi's latest controversy. While some made jokes on Rakhi, others vehemently criticised Rakhi on the micro-blogging site.
A number of funny pictures and memes are also being shared to ridicule Rakhi's style of showing fondness for Modi. Although anybody has the right to wear anything they want to, this dress appeared too inappropriate to Modi lovers.
While some are calling it yet another publicity seeking act of Rakhi, others are still confused about what exactly the actress was trying to express. The dress appears to be too indecent to be worn on an Independence Day celebration and also the way Modi's pictures were printed on it has raised many eyebrows.
Nevertheless, Rakhi has made headlines again and has started trending on social media. Check out some of the Twitter reactions on Rakhi's latest controversy: