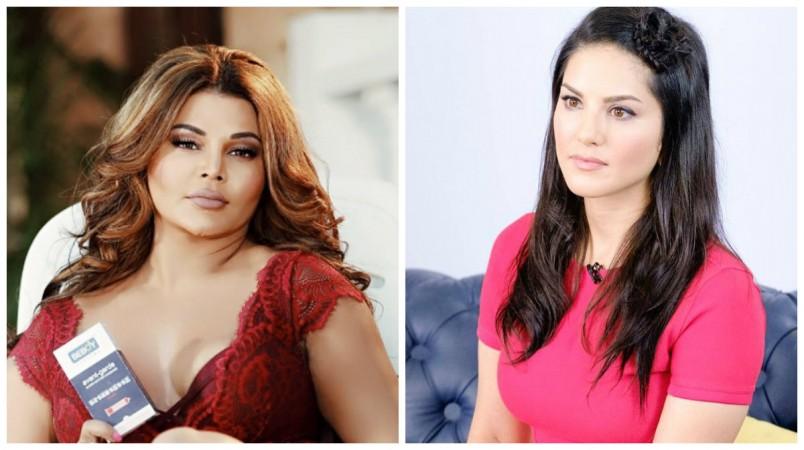 Controversial diva Rakhi Sawant has always been extremely negative towards Sunny Leone and had made several nasty remarks about the former porn star. However, now Rakhi apologised to Sunny on national television.
During her recent appearance on the TV show Juzz Baat, Rakhi said sorry to Sunny for making obscene comments on the actress.
Talking to International Business Times India, Rakhi said that she realised the kind of hard work that Sunny has been doing. Appreciating Sunny's act of adopting a child, Rakhi further said that she regrets her past words, and now respects her for becoming a mother to three children.
"Earlier I was totally against her because she was a porn star. But now she is in the film industry and she has been working hard. She is learning Hindi and Indian style of dance. She also adopted a child. So, now I feel good about her and I should not abuse her. I feel sorry for all the things I said against her, and now as she is a mother, I should not say anything bad about her," Rakhi said.
Rakhi had made a series of abusive comments on the Mastizaade actress, targeting her past. She had said that Sunny became popular by unclothing herself and she has been spoiling the mindset of the country's youth.
Not long before, Rakhi had even accused Sunny of making the former's phone number available to people from the adult film industry in Los Angeles, who according to her, had been calling her to act in porn films.
"Sunny Leone has given my number to the adult entertainment industry. I am getting calls from people there. They are asking for my videos and medical certificate and are offering me good amount. But I am not at all interested in doing such work. I will die but will never ever get into that world. I am an Indian girl and I know my values. Mein dil se Hindustani hoon( I'm an Indian by heart). When I asked them how they got my number, they took Sunny Leone's name," Sawant had told IB Times.
Nonetheless, Rakhi has apologised to Sunny and she apparently wants to bury the hatchet.