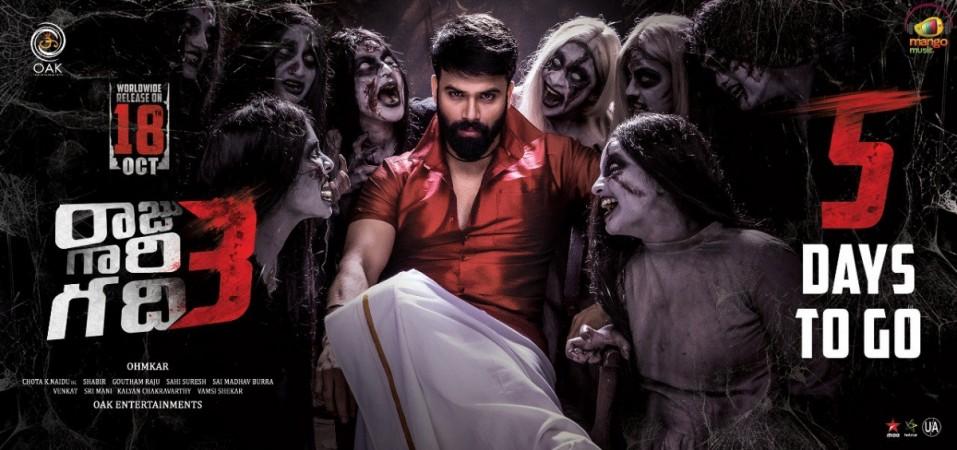 Director Ohmkar's Telugu movie Raju Gari Gadhi 3 (Gadi /RGG 3) featuring Ashwin Babu and Avika Gor in the lead roles has received positive review and rating from the audience.
Raju Gari Gadhi 3 is a horror comedy film, which is the third instalment in the Raju Gari Gadhi franchise. It is about paranormal incidents occurring in and around an old bungalow. Produced by Oak Entertainments, the movie has received a U/A certificate from the censor board and its runtime is 2.02 hours.
Raju Gari Gadhi 3 story: The movie revolves around the story of an auto driver (Ashwin Babu), who is irritating everyone in the colony where he stays. On the other hand, whoever tries to propose Maaya (Avika Gor), gets killed by an evil spirit. His colony mates plan to make him propose her so that he is killed by the evil spirit. What happens next forms the crux of the story
Performance: Lead pair Ashwin Babu and Avika Gor have done justice to their roles. Their performances and chemistry are the highlights of Raju Gari Gadhi 3. Ali, Hari Teja, Sivaji Raja, Ajay Ghosh, Prabhas Sreenu and Brahmaji have done good jobs and they are also among the big assets of the movie, said the audience.
Technical: Raju Gari Gadhi 3 has good production values. Chota K Naidu's picturisation, Shabir's background score, Srikanth and Chitra Maudgil's makeup, VFX and Sai Madhav Burra's dialogues are the attractions on the technical front, add the viewers.
Raju Gari Gadhi 3 review live updates: We bring you some viewers' response to the film shared on Twitter. Scroll down to see the audience's verdict:
Praveen Kumar @PravinMegaFan
#RajuGaariGadhi3 First half OK Second Half Excellent Comedy Track Best one compare to previous 2 parts
Jateen Kumar @JateenKumar17
Here is the review of #RajuGariGadi3 1st half - nice 2nd half - above average But full comedy #mustwatch for horror and comedy lovers Over all rating - 4/5
Tarak Gohan @Tarak_Gohan9999
First half completed... Bagundi... Item song... Interval scene ... #RajuGariGadi3 #RajuGaariGadhi3Second half lo 20 mins fun mamulga ledu...peaks Climax 10 mins konchem better ga tesunte super undedi... Ashwin Baga improve ayyadu... #HIT #RajuGaariGadhi3 #RajuGariGadi3
Mohan @Mohankrish9999
Interval mundu 10 mins parledhu, migatha anta rod first half #RajuGaariGadhi3 #RGG3 Decent 2nd half, climax rod #RajuGariGadhi3 #RGG3
Mirchi9 @Mirchi9
#RajuGariGadhi3 Review - All About One Hilarious Block Mirchi9 Rating: 2.25/5 There is a hilarious block in the 2nd half within the confines and clichés of horror-comedy. The rest is flat and predictable. #RGG3 is all about that one stretch.
BlockBuster Friday @BB_Friday
#RajuGariGadhi3 offers nothing new. Cheap comedy and bad songs make the experience all the more exhaustive. Loud BGM irritates to no end. Only positive is the 20 mins comedy track in 2nd half. We are going with ⭐️ ⭐️ (2/5). #RGG3 #RajuGariGadi3
Parota @THEPAROTA
#RajuGaariGadhi3: It has no seriousness in the script. The forced comedy too doesn't help nor do the numerous characters thrown in cumbersome situations. With, predictable storyline the film fails at keeping the audience engaged. Rating : 2.5/5
Vinay @Coolest_Vinay
#RajuGaariGadhi3 first half - ok Second half lo strong point lekapoty Thammudiki Baga chupinchali and point medhe ekuva concentrate chesadu omkar Story ity enka em start avaledu #Ashwin acting ok ok #Avikagor looks bagunai item song lo oka 20sec exposing chesindhi #RajuGaariGadhi3 Item song lo beats ki valla steps middle lo #Avikagor item girl dress lo dance Songs ,bgm, horror scenes lo sound Mari ekuva petesadu
Varun reddy @varunreddyram
#RajuGariGadhi3 First Half:Decent Comedy Thrills screenplay and Performances Done Very Well By @iamashwinbabu @avika_n_joy @DhanrajOffl #Ali #Hariteja @actorbrahmaji
BuzZ Basket @ursBuzzBasket
@iamashwinbabu & @avika_n_joy Screen Presence Comedy Track Out of 3 Songs 1 is good Horrifying moments Interval bang First half not up to the mark #Ohmkar's #RajuGariGadhi3 #RajuGariGadi3 #RGG3 #AvikaGor #AshwinBabu
Vamsi Shekar @UrsVamsiShekar
#RajuGariGadhi3 First Half: Thoroughly entertaining With ample of comedy scenes. #RajuGariGadhi3 Review: The Movie has good comedy in first half and second half is full of horror comedy With @iamashwinbabu #Ali #Urvashi #AjayGhosh and @DhanrajOffl comedy BGM at many places are wow factor. #Ohmkar third franchise #RGG3 is thoroughly entertaining
'i' am Mohith @MohithGana
Just ok 1st half. #RajuGariGadhi3 Entertaining 2nd half, Comedy works....but No Story. #RajuGariGadhi3

TeluguBulletin @TeluguBulletin
#RajuGariGadhi3 – First Day First Show Live Updates #Rajugarigadhi3FDFS #Rajugarigadhi3Review #THALA60PoojaDay Comedy scenes with horror effect, have been worked well. Impressive special effects, the devil dies and thus the movie ends.