The trailer of Raju Gari Gadhi 2 (RGG2), which was released on YouTube Wednesday, September 20, shows that Akkineni Nagarjuna's acting and the rich production values are going to be the highlights of the movie.
Read: Raju Gari Gadhi 2 movie review
Raju Gari Gadhi 2 is a horror comedy, which has been written and directed by Ohmkar and produced by PVP Cinema, OAK Entertainments Pvt Ltd and Matinee Entertainments. Prasad V Potluri has released trailer on the youtube channel of PVP Cinema on the occasion of late legendary actor Akkineni Nageswara Rao's birth anniversary.
Like Raju Gari Gadhi, the trailer shows, Raju Gari Gadhi 2 is also set against the backdrop of a haunted house. But the story and characterisation are going to be different. The movie revolves around the story of a resort, which is haunted by the spirit of a girl, who wants to take revenge on someone. How mentalist solves the issue of the spirit forms the crux of the story
Akkineni Nagarjuna is playing the mentalist and his performance is going to be the big attraction of the film. The video also offers a glimpse at the roles played by Samantha, Seerat Kapoor, Ashwin Babu, Vennela Kishore, Shakalaka Shankar, Naresh and Avinash. There are enough hints to the comedy and suspense elements.
Apart from their acting, the trailer also offers a glimpse at the rich production values of Raju Gari Gadhi 2. S Thaman's amazing background score, R Diwakaran's beautiful picturisation and stunning VFX works, which are on par with international standards, will be the attractions on the technical front.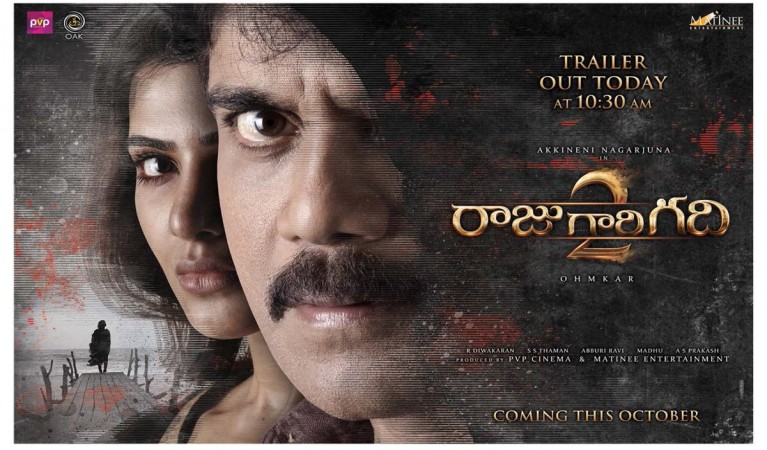 Horror comedies usually lack variety in terms of story and it is the screenplay that makes all the difference. Raju Gari Gadhi 2 is not an exception to this, as its plot looks too clichéd. It should be seen whether the film will be able to impress the audience and become another hit for Nagarjuna.