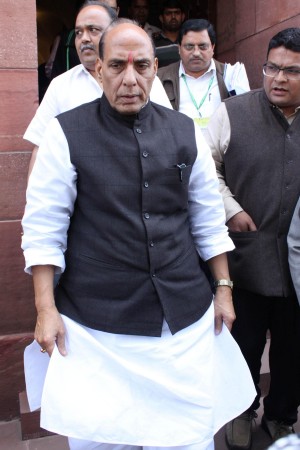 In yet another example of lawlessness in Uttar Pradesh, one of home minister Rajnath Singh's relatives was shot dead by gunmen on Wednesday, said the police.
Three bike-borne youngsters intercepted Arvind Singh at Makhsudanpatti in Phoolpur late on Tuesday when he was returning home after dropping his wife at the airport, reports The Hindu.
They shot Singh after having a brief discussion with him, following which he fell to the ground. The bullet pierced his neck and the assailants fled.
The villagers gathered at the spot after some women harvesters raised an alarm.
Singh was shot at point blank range by one of the persons who sat in the car with him, according to eyewitness accounts.
According to AK Pandey, superintendent of police (rural), no arrests have been made so far, but a .32 cartridge empty shell has been recovered from the crime scene.
Vijay Bahadur Pathak, BJP's Uttar Pradesh state unit spokesman, called the killing as yet another example of lawlessness in the state.
"There is no policing in the state and every day scores of people are being killed in the state," he said.