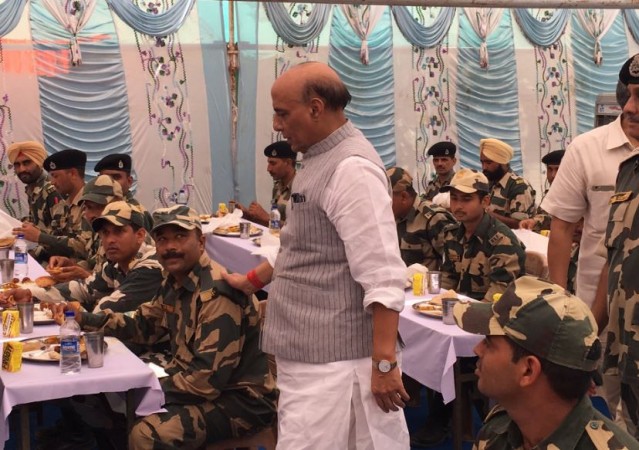 Union Home Minister Rajnath Singh on Saturday visited Munabao Border Outpost (BOP) of the Border Security Force (BSF) in Rajasthan's Barmer district.
Singh was impressed by the morale of the BSF personnel despite being posted in a challenging environment where temperature is high and terrain is difficult due to sand dunes.
The Home Minister promised that the government would do whatever it can to improve border infrastructure and the service condition. He also added that the damaged border fence would be repaired on an urgent basis and things will be periodically reviewed for undertaking repairs.
He also said that the government is doubling efforts to set up floodlights and parallel road along the border fencing for effective border patrol. Singh also promised improved mobile connectivity by adding more towers to border areas and providing more satellite phones.
He also assured the soldiers that his ministry would be addressing the shortage of bullet-proof jackets and would consider procuring lighter jackets. He also noted the shortage of drinking water in the area and said a survey would be conducted to bring piped water supply to all the BOPs.
The Home Minister further highlighted that he would examine the BSF proposal for constructing safety walls and ring bunds on the periphery of the Battalion HQs and BOPs. He would also look into the issue of the camouflage uniform being uncomfortable in hot temperature areas.
Singh reiterated that though India believes in the old saying of world being one family, it will not keep quite if fired upon. He said when retaliating, the soldier should never count bullets once he pulls the trigger.
Singh is on a two-day visit to Rajasthan. He has also reviewed the security situation at border areas of Rajasthan and Gujarat with senior BSF officers.
Earlier, Singh had announced complete sealing of India's border with Pakistan by December 2018. He also mooted the concept of Border Security Grid, which will be a monitoring mechanism along the four states bordering Pakistan.
Visited Munabao BOP in Barmer district today. I salute these BSF personnel who are guarding the borders in extremely challenging environment pic.twitter.com/CazCVxUsd0

— Rajnath Singh (@rajnathsingh) October 8, 2016