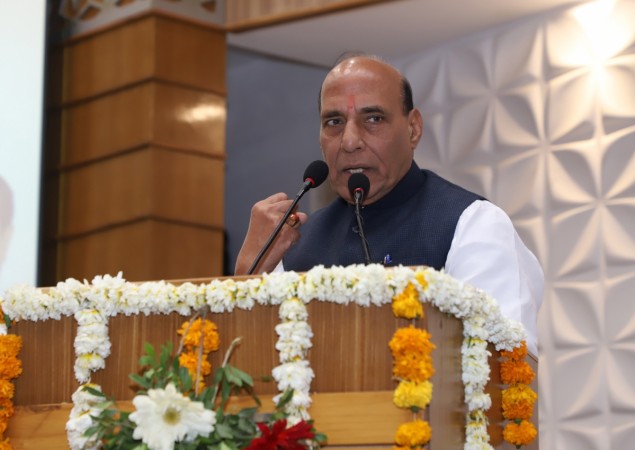 A two-day Vijaya Lakshya Yuva Mahadhivesam, an event of BJP's youth wing Bharatiya Janata Party Yuva Morcha (BJYM), was inaugurated by Union Home Minister Rajnath Singh on Friday.
The event, underway at the Parade Ground in Hyderabad, is estimated to be attended by more than 1 lakh office-bearers and activists up to Mandal level.
Party chief Amit Shah, Nitin Gadkari, Piyush Goyal, Nirmala Sitharaman and Dharmendra Pradhan are among union ministers to attend the event. Other than union ministers, chief ministers of Assam, Maharashtra, and Tripura will also address youth at the two-day event.
BJP general secretaries Ram Lal, Ram Madhav and P Muralidhar Rao will also attend the event.
Earlier in a video message shared on Twitter, Poonam Mahajan, president of the BJYM, appealed to all yuva morcha karyakartas (activists) to join hands to strengthen Prime Minister Narendra Modi to fulfill his dream of new India.
"So, once again I take this opportunity to invite you all to join this historic gathering and engage yourself with BJYM's mission towards victory in 2019 for our honourable Prime Minister and successful national president Amit Shah."
"The public rally and the party president's address will be kind of launching of the party's campaign in Telangana," Mahajan was quoted as saying by the Indian Express.
According to Indian Express, Prime Minister Narendra Modi is likely to address the party youth through video conference. PM is leaving for Japan on October 28.
Telangana will vote for its first independent assembly elections in December after Chief Minister K Chandrashekhar Rao prematurely dissolved the assembly on September 6.
The 119 constituencies in the state will go to polls on December 7. The vote count will take place on December 11. The state is currently ruled by caretaker Chief Minister K Chandrashekar Rao (KCR).
TRS, Congress-led Prajakutami (Grand Alliance), Bharatiya Janata Party (BJP), All India Majlis-e-Ittehad-ul Muslimeen (AIMIM), and Aam Aadmi Party (AAP) are in the poll fray for the assembly elections in the south Indian state.
The event will also mark the launch of the poll campaign of BJP for Lok Sabha polls, slated to be held next year.