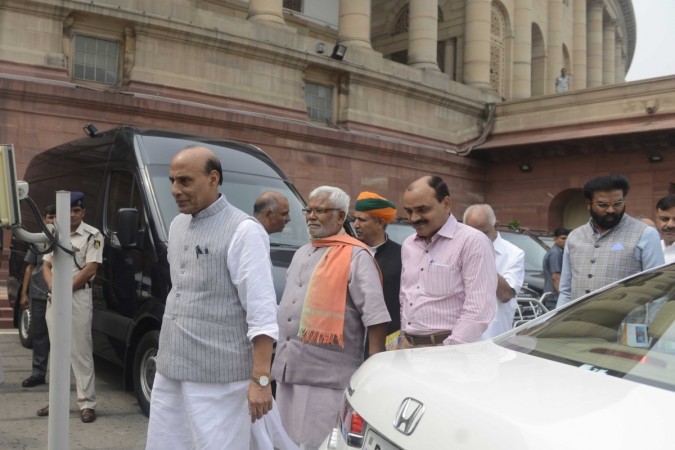 Union Home Affairs Minister Rajnath Singh will visit Pakistan early in August to attend a South Asian Association for Regional Cooperation (SAARC) meet. He is expected to raise the issue of increased cross-border terrorism during the summit to be held on Aug. 3 and 4.
The meet of the home ministers is a buildup to the main event scheduled to take place on Nov. 9 and 10 in Islamabad, which would be attended by the heads of states of SAARC countries.
During the August meeting, the chill in India-Pakistan relationship is expected to continue. It had seemed that the two neighbouring countries would have more amicable relationship after Prime Minister Narendra Modi visited Nawaz Sharif in Pakistan in December.
However, the terrorist attack on the Pathankot airbase, Pakistan government's stance on the investigation, and incursions along with the Kashmir unrest have soured the relationship.
I want to tell my neighbour that instigating our youth to pick up weapons is not correct," Singh said at a press conference after a high-level meeting in Srinagar.
Kashmir has been on the boil since the death of Hizbul Mujahideen leader Burhan Wani. Protests and the subsequent clamp-down from the government led to death of more than 40 people in the troubled Valley.
Pakistan had also critiqued India's method of handling the protests, to which Singh had said, "We don't need third party's involvement to address the situation that prevails in Jammu & Kashmir."
Pakistan had observed Black Day on July 20, which coincided with their Kashmir Accession day.
The unrest in Kashmir was blamed on Pakistan by the chief of the Northern Command on Kargil Vijay Diwas. He had also said that there is an increase in incursions.
External Affairs Minister Sushma Swaraj had, during the Council of Ministers meet of the eight-nation group in March 2016, asked Pakistan to take cognisance of the Pathankot airbase attack and take action against the perpetrators.
The Kashmir issue was debated in United Nations this month as well. Accusations and counter-accusations between India and Pakistan had followed.
"We need also a goodwill of member states. How can we resolve that without the goodwill of member states," Jean-Paul Laborde, the Executive Director at the UN Counter-Terrorism Committee Executive Directorate, had said on the issue.