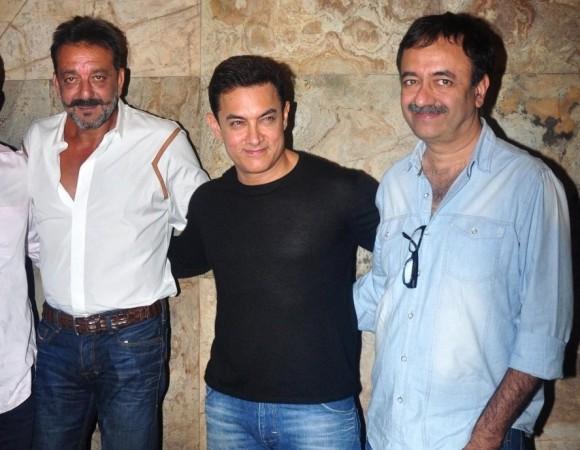 After Sanju was released, many people criticized director Rajkumar Hirani for whitewashing Sanjay Dutt's controversial image in the biopic and accused him of painting the actor as a victim of circumstances.
It seems like Hirani has now finally accepted that he changed the script and narrative to create empathy towards Sanjay Dutt in the biopic.
"During the shoot I felt 'What am I doing, I'm going wrong.' In fact, when the first edit was ready and we screened for people, they hated him. They said we don't like this man, we don't want to watch him," Rajkumar Hirani told PTI while speaking at a masterclass held by Indian Film and TV Directors Association in New Delhi.
He added, "Because I wanted to do a true story, I didn't create any empathy towards him. I said let's not create empathy and show (him) as he is. But later I understood that he is our hero, we need some empathy for him."
Hirani further said that he shot the scene (which was not a part of the script initially) where Sanju attempts suicide because he thought the particular sequence will bring some empathy towards the actor.
"The scene where he tries to kill himself after the verdict is out; which he had mentioned to me but we didn't put in the film, I shot it later. It was not in the original script. I thought through this some empathy will come. The initial test reactions were like 'naah we don't like this guy...' Every film is a journey. Some things work and some don't. I still see flaws in the film but you try your best and hope your best is good enough," Hirani said.
Hirani earlier defended his stance asking counter-questions on the allegations of whitewashing, media bashing and glorification levelled against him.
"Today if the world believes that he had RDX, it's based on that one news, so we have criticised that. But now when we are told that the whole film is about media bashing, it's again picking up a headline," Hirani said while addressing the media at the ninth edition of the International Film Festival of Melbourne (IFFM).
"Whitewashing as a word is being thrown open. If you've watched the film, what was Sanju's crime," he had counter-questioned.
However, even after his admission of trying to portray Sanjay Dutt as a hero, Hirani once again defended his stance and insisted that though Sanjay Dutt has done many unpleasant things in life, he is not a bad man.
"(Sanjay Dutt) goes and sleeps with his best friend's girlfriend but there isn't any reason. Their friendship was almost jeopardised. The other scene where he puts the commode seat on a girl he wants to marry, I am not defending that! It's a terrible action. My perception of Sanju was that he has done so many weird things but he is not a bad man... I felt he had an innocence, he is naughty but he doesn't harm anyone. He didn't pick up the gun, scared people or fired a shot. He made a mistake," he said.
He further added, "We made a commentary about certain section of the media and the term 'whitewashed' came into play. Everywhere I go people say I have whitewashed him but I haven't. A journalist asked me, why did you whitewash Sanju and I asked what was Sanju's crime? I am not defending the man but myself and the film. He kept a gun, destroyed it too, lied to his father and was arrested. I showed it all, his drug phase and the way he treated people. So where have I whitewashed?"
Apart from Ranbir Kapoor, who plays the titular role in the biopic, Sanju has an ensemble cast of Paresh Rawal, Manisha Koirala, Vicky Kaushal, Sonam Kapoor, Anushka Sharma, and Dia Mirza.