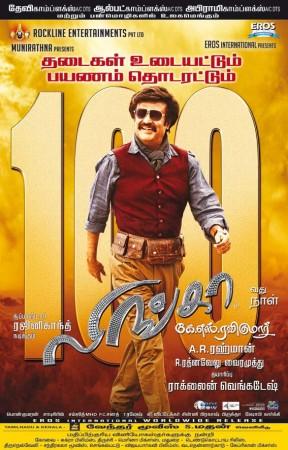 Tamil superstar Rajinikanth's 'Lingaa', which released in theatres on 12 December 2014, has completed a successful run of 100 days in many theatres in Tamil Nadu and other parts of the world on 21 March.
Having generated a lot of curiosity among the film goers before its release, 'Lingaa' released in over 3000 theatres across the globe and opened to an overwhelming response. The movie set a new record by raking in ₹22 crore at the worldwide box office on the first day of its release.
'Lingaa' received reviews from critics as well as viewers and the word of mouth took toll on its business in the following days. Besides, the movie also faced tough competition from big-ticket films like 'Yennai Arindhaal', 'PK', 'Tevar' and 'Gopala Gopala' in the later weeks and could not match its expectations as far as its box office collections were concerned.
The film suffered a severe setback at the Tamil Nadu box office. Its distribution rights of the state were reportedly sold for ₹180 crore and the distributors suffered a loss of ₹40 crore. The film made it to the headlines for all the wrong reasons, when some distributors took to the streets to get their money back from the producers.
Finally it was Rajinikanth who intervened and put an end to the controversy by paying ₹10 crore to the distributors, who were demanding ₹33 crore that they claimed to have lost. The distributors have finally dropped their plans to hold a protest against the film makers in front of Rajini's house.
"Rajini sir paid the amount to producer Rockline Venkatesh and requested him to settle the losses of the distributors. While it's not known how much he paid, but the distributors have agreed to call off the protest," a source told IANS.
Despite the controversy, 'Lingaa' has completed 100 days of screening in many theatres across the state. It has had a successful run in Devi and Albert Complexes and a few other theatres in Chennai. Rajini's fans have made elaborate plans to celebrate its success on 22 March at the Albert Theatre Complex. Thousands of fans are likely to be present on this occasion.