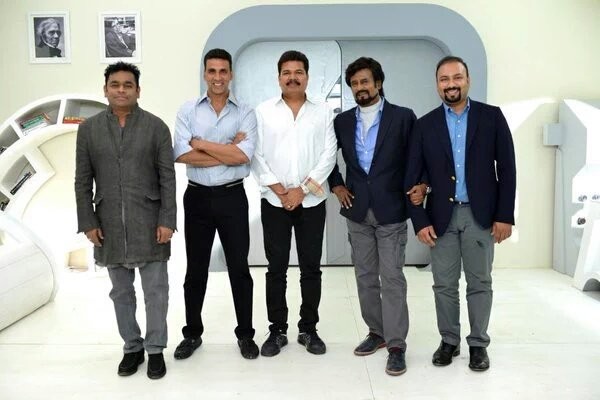 Bollywood actor Akshay Kumar has been the topic of talks among fans of south Indian films ever since the makers of Rajinikanth's "2.0" — a sequel to his blockbuster movie "Endhiran" — signed him up to play an important role in the film.
The much-talked about film, "2.0," will mark the debut of Akshay Kumar in the Tamil movie industry. The Bollywood actor will be seen playing a negative role in the movie. Akki's look in the film, which was recently leaked online, has created lot of curiosity about his role. The actor is said to be leaving no stone unturned to make his appearance gain an impressive edge in the film.
Here are the five interesting facts about Akshay Kumar's role in the "Endhiran" sequel, "2.0."
1. Akshay Kumar is reportedly playing a scientist in the S Shankar-directed science fiction film, which is being made on a whopping budget of Rs. 350 crore. The actor gets himself transformed into a crow after undergoing an experiment. Akshay and Rajnikanth will be seen doing some high-octane action sequences in the film.
2. The "Khiladi" actor appears in an unrecognisable get-up. His new avatar looks ugly and scary. The look, which has created a lot of curiosity about the movie, is set to be one of the highlights of "2.0."
3. The makers of "2.0" are very particular about Akshay's drastic make-over and are shelling out a hefty sum of Rs. 3-4 crore on his make-over. They have engaged Hollywood make-up artiste Sean Foot, who has earlier worked in James Cameron's "Avatar."
4. The transformation has been a very painful experience for Akshay Kumar, who had been to New York to get his costume trials done before starting the shooting of "2.0." His make-up reportedly takes six hours and he has to arrive on the sets early every morning to ensure his make-up is done on time. His patience and professionalism is commendable, say sources from the team.
5. Interestingly, Akshay Kumar was not the first choice for the role of the scientist in "2.0." It was rumoured that the producers had initially approached Hollywood actor Arnold Schwarzenegger with this offer, but they could not bring him on board, as he quoted a hefty sum as his remuneration.