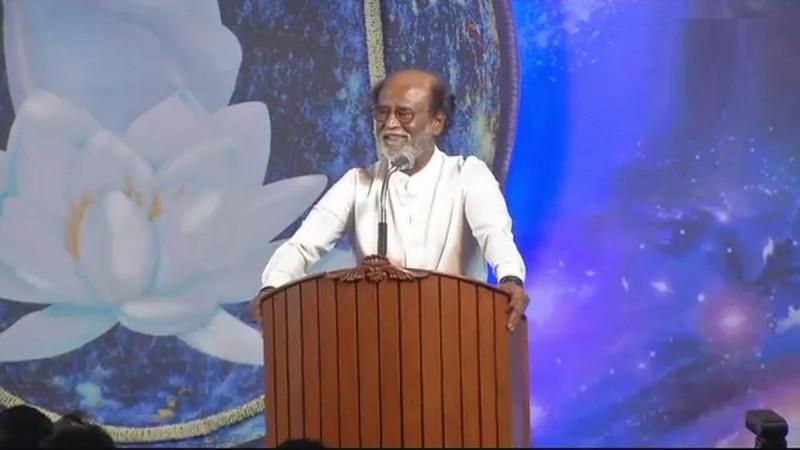 Tamil superstar Rajinikanth will reportedly announce the name of his party on April 14 on the occasion of Tamil New Year. There are many names that are being considered and the superstar will take the final call once he returns from his spiritual trip from the Himalayas.
"#Superstar @rajinikanth will announce his Party name and flag on Tamil New Year's Day - Apr 14th..Flag is already finalized.. For Party name, 10 names are under consideration..A big party conference will be held in #Chennai or #Trichy this summer..[sic]" Industry observer Ramesh Bala tweeted.
Rajinikanth has not spoken about his ideology, policies or anything significant ever since he expressed his desire to enter politics. The Tamil superstar had revealed that he would practice "spiritual politics" which came under attack from the political parties citing that it was not good for the country. Later, he clarified that "honest and secular politics is spiritual politics."
"Jayalalithaa and M. Karunanidhi were great leaders, and when they were active there was no vacuum. But their space is vacant now. I want to fill the space with spiritual governance. God is on our side," he said while talking about his intention to foray into politics.
Rajinikanth has over 50,000 fan clubs and he plans to use its members as the foot soldier in politics. The 67-year old has already floated a website and app, asking all his fans to register their names along with other details.
The superstar wants to contest in all 234 assembly constituencies in the next Tamil Nadu assembly elections in 2021 and there is no update on his party contesting in the next Loka Saba election which will be held next year.
Meanwhile, Rajinikanth is on a two-week spiritual tour in the Himalayas. He will be returning to Chennai toward the end of this month.