Rajinikanth's first political speech in public predominantly hails the legacy of AIADMK founder M. G. Ramachandran, aka. MGR. In over a 30-minute speech, the Tamil superstar opened up about his decision to enter politics, asks students to learn English, etc.
The event was held at the ACS Medical College in Chennai, which was founded by A C Shanmugam, a Lok Sabha member of the AIADMK during MGR's rule, in which over 5,000-6,000 people participated. The superstar inaugurated a statue of the former Tamil Nadu chief minister.
Here are the highlights from his speech:
I am not MGR, but I can give you a pro-poor government like him. None can match him for the next 1,000 years including me.
He said that he did not fear Jayalalithaa and reminded people that he spoke against her in 1996.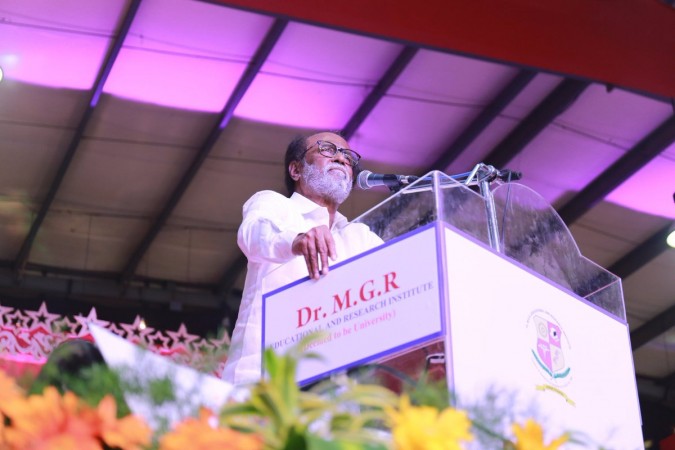 Jayalalithaa and M. Karunanidhi were great leaders, and when they were active there was no vacuum. But their space is vacant now. I want to fill the space with spiritual governance. God is on our side.
Spiritual politics is nothing but is about a rule which is based on dharma and on honesty without discrimination of caste and religion. We can call it a clean politics.
Being proficient in English is the need of the hour. Tamil will not grow until you personally grow. So, learn English. He recalls late APJ Abdul Kalam, and Google CEO Sundar Pichai, who become successful with proficiency in English
I know the road in politics is not a bed of roses, and I realize that the path will be thorny, but I have learned a lot from great personalities like Cho Ramaswamy, M Karunanidhi, and GK Moopanar, and will make things better.
Rajinikanth further added that while he has done his job sincerely, the other politicians have failed in their duties. Hence, he is entering politics.
I advise my supporters not to put up banners from now on as there is a Madras High Court order against it. I apologize for any inconvenience.