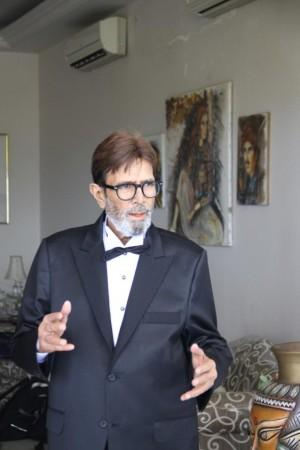 Bollywood's one of the greatest actors, Rajesh Khanna, is all well and doing fine, his family said.
On Thursday, Rajesh Khanna appeared on the balcony of his home 'Ashirwad' on Mumbai's Carter Road to assure fans outside his bungalow that he is doing fine.
The 69-year-old, who was accompanied by his estranged wife and Bollywood actress Dimple Kapadia and son-in-law actor Akshay Kumar, showed the victory sign to the crowd waiting outside his home.
Earlier that day, the actor's manager Ashwin had said that Rajesh was not doing well and has stopped eating food for the past three to four days.
"He is unwell, and at home. He has stopped food intake for three to four days. Dimple is continuously by his side and his daughter Rinke also visited him," the Press Trust of India reported quoting Ashwin on Thursday.
However, Bollywood's "first superstar" waved to his fans and assured them that he is doing well. He also showed a "V" for victory sign to his fans from the balcony. The actor was wearing a crisp white kurta, a light brown color stole and dark shades. He appeared weak with his heavily bearded look.
Click here to check the pictures of actor standing in his balcony and waving to his fans.
"All those spreading rumours, a humble request, get your facts right before reporting. And for those genuinely concerned & inquiring about my father in-law's health, he is doing fine now & on the road to recovery. Thank you for your good wishes," concerned Akshay Kumar wrote on his Whosay account.
Popularly called as "Kaka" by his friends, Khanna was hospitalized at Lilavati Hospital in April following uneasiness back then.
The actor recently appeared in a television ad which was directed by filmmaker R Balki.
He has acted in more than 150 films and had ruled the Hindi cinema in the 60s and 70s with films like "Raaz", "Do Raaste", "Bawarchi", "Anand" and "Aradhana."
He has also delivered 15 consecutive solo super hits between 1969 and 1972, which still remains an unbroken record in the Indian film history.