Congress leader Sachin Pilot is confident that BJP government in Rajasthan under the leadership of Vasundhara Raje will probably come to an end once the Assembly election results are out.
A majority of the exit polls had favoured Congress to be the next ruling party of the state. Rajasthan follows a trend of anti-incumbency and has never allowed the same party to rule for two consecutive times.
According to the trends, Congress could possibly steal a march over BJP.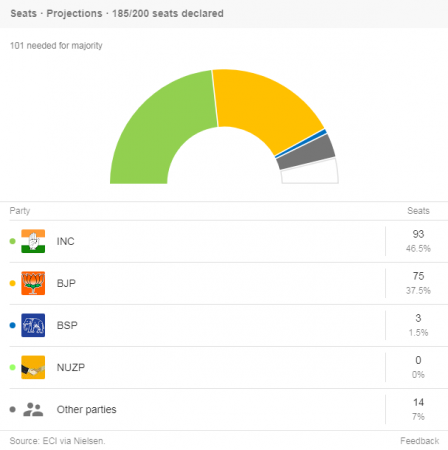 The elections were conducted on 199 on the 200 seat state assembly as the BJP candidate from Ramgarh, Laxman Singh, had died due to a cardiac arrest. The party which secures 101 majority mark in the elections will stake claim over the state government.
Sachin Pilot is contesting from Tonk constituency. He is the state Congress president and is the party's CM candidate.
In the 2009 Lok Sabha elections, he had defeated BJP candidate Kiran Maheshwari by a margin of 76,000 votes and won the Ajmer seat.
In the 2014 Lok Sabha elections, he was again nominated from the Ajmer constituency. Sachin Pilot, sitting MP from Ajmer, was defeated by a margin of 1,71,983 votes by the BJP's sitting MLA Sanwarlal Jat.
Pilot had earlier said that demonetisation and Goods and Service Tax (GST) has badly affected everyone and that they cannot run away from this mistakes. He is fully confident on the Congress party winning the state assembly elections with the majority votes.
The incumbent Chief Minister of Rajasthan Vasundhara Raje has become deeply unpopular among the people who blame her and the state cabinet ministry for being inaccessible to the people.
Raje is leading in her constituency of Jhalrapatan with more than 8,000 votes and Pilot is leading with more than 5,000 votes from Tonk constituency.
The Congress is all set to form the government in Rajasthan, said Pilot to the media after the Congress neared a majority mark of 101 during the early counts on Tuesday.